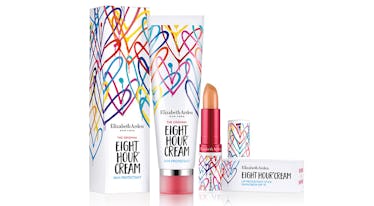 Elizabeth Arden's New Eight Hour Collab Features The Instagrammable Street Art You Know & Love
For quite some time now, I've been a fan of muralist James Goldcrown and his statement-making, brightly colored graffiti hearts. I've taken tons of photos whenever and wherever I've seen them pop up on walls throughout New York City, as a way to keep the little hearts for myself. But now that I've heard about Elizabeth Arden's Love Heals x Eight Hour Collab, I finally have a more palpable way to get my hands on the #Lovewall murals, plus an opportunity to stock up on one of my favorite soothing salves. Gorgeous artistry combined with one of my all-time favorite products? Too good to be true, some might say, and yet here we are.
The Bleeding Hearts, or #Lovewall murals, have become James Goldcrown's signature body of work during his career as a self-taught artist. The design is simple, cheery, and bright, and while many (admittedly, myself included) have taken advantage of them in the name of a great Instagram post, the true meaning behind the hearts is to inspire feelings of love, hope, and positivity. If you live in New York, California, Texas, or Chicago, it's possible you've passed by these hearts IRL as I have, and if not, you've definitely seen them on social media a time or two.
Here's a post from me, guilty as charged, with Goldcrown's mural at the NoMo SoHo Hotel, perfectly accenting my cocktail and fresh manicure:
Apparently, the folks at Elizabeth Arden are fans of Goldcrown's work, too, as they've announced a collection combining this mural with some of their most beloved products. The Love Heals x Eight Hour Limited Edition Skin Protectant ($22, elizabetharden.com) features the brand's best-selling product in packaging adorned with an array of Goldcrown's bleeding hearts.
Why, hello there, packaging goals:
The collaboration is in honor of the product's 88th anniversary, and in my opinion, it's only right to celebrate 88 years of perfection so stylishly. I'm a huge fan of the Eight Hour Cream ($22, elizabetharden.com), which is basically a universal soothing salve that works on everything from hair to skin to lips. I always have at least one tube on my desk to treat my chapped lips during fall and winter months, and I've been known to slather it just about everywhere before embarking on a long flight or drive. It's a no-nonsense formula that works, which is why it's stood the test of time and deserves a celebration. The idea of combining the product's goal of healing with Goldcrown's message of love is totally inspiring, which is why I'm so here for the packaging, the formula, and the overall message behind this collab.
Along with the Eight Hour Cream original formula, there will also be a Love Heals x Eight Hour Limited Edition Lip Protectant Stick SPF 15 ($22, elizabetharden) in the same heart-adorned packaging. Need.
"This collection is a daily testament to the healing power of love, one that you can carry with you everywhere," says Goldcrown via a press release from the brand regarding the collaboration. "That's something that we definitely need in the world right now, and these happiness-infused designs will spread the love to everyone who carries them."
The combined message of love and healing is a great one, but there's another element within this collab that really intrigues me: the unification of old and new. Elizabeth Arden opened her first beauty salon in 1910 — her namesake brand is iconic and downright historic. Street art and graffiti, meanwhile, are basically at the other end of the spectrum, since for so long, this type of expression was viewed by many as vandalism, not art. Muralists and talented artists like Goldcrown are changing negative stereotypes, though, and while an appreciation for street art is a fairly new concept to some, it's an incredibly powerful one to many. For an older, more classic brand like Elizabeth Arden to embrace and promote it brings the medium even more validity.
If you've ever been curious about the famous Eight Hour Cream, or if you're a die-hard fan already who can't get enough, there's never been a better time to pick up the product. The limited edition Love Heals packaging hit stores September 2018, and is currently available on the brand's website, as well as in department stores nationwide and on select retailer sites. I've already got a few of the traditional tubes as backups, but I'll still be snagging another one in the bleeding heart packaging, too, to soothe my skin and bring good vibes to my makeup bag.