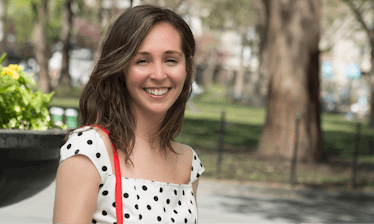 Elite Daily's "Out Of Here" Travel Issue Takes You Exactly Where You Want To Go
Tell me if this sounds familiar: You booked roundtrip airfare for a getaway to Costa Rica with your best friends. You did what seemed like the hard part — getting everyone to agree on dates, and on ticket prices, and on airlines and layovers and travel routes — but now comes the even harder part: figuring out where to stay, what to do, how much to start saving for, where you'll eat, where you'll party, and if you're super extra, what outfits will coordinate best with all those beach Instagrams you've already got planned. It's almost enough to make you dread the trip. But that stops literally this second. Because for anyone who's ever hated this next phase of travel planning (and don't even lie; that's all of us), welcome to Elite Daily's second digital issue: Out Of Here.
Out Of Here is the travel guide you've been waiting for. No, really. Overflowing with answers to all of the questions you have about traveling domestically, internationally, or even just for the weekend, this issue is bursting with the detailed, first-hand travel advice that you and your friends actually need, like how much it costs to eat, sleep, drink, sightsee, explore, and take home souvenirs from the most iconic, up-and-coming, and remote destinations across the globe.
I mean it when I tell you there's nothing like Out Of Here out there.
Though there are tons of destination guides on the internet, I mean it when I tell you there's nothing like Out Of Here out there, especially when it comes to the things you care about when planning a trip. Have you ever wondered how that girl from high school who you follow on Instagram found that teeny, tiny restaurant in Copenhagen that you can't find anywhere, no matter how intricate your Googling? What the hell do you wear to go out in New Zealand? And there must be places in London worth Instagramming that aren't Sketch, but what are they??? (Ed. note: Still go to Sketch, though.)
We get it, and that's why we're bringing you Out Of Here.
In Wander Or Bust, the series that anchors our issue, we've chronicled the travel diaries of 44 women who've traveled to six out of seven continents. (Sadly, we couldn't find anyone in Antartica. But if you're out there and reading this, HMU!) Their travel diaries hold the answers to every question you've ever had about traveling to Paris, or Dubai, or Hanoi, or New Orleans — how much did they spend? what did they pack? did they make reservations ahead of time? where did they take that photo?! — and offer tons of advice on getting there, getting around, and having the experience of a lifetime at every turn.
Are you dying to know what a millennial woman in Costa Rica would blow $1,000 on? We were, too.
This Girl I Met, our complement series to Wander Or Bust, features quick one-on-one interviews with locals about their lives. Do you want to know what dating in Spain is like? Curious about what a night out looks like China? Or are you dying to know what a millennial woman in Costa Rica would blow $1,000 on? We were, too, so we asked, and trust me — you're going to love their answers.
We're back with another Add To Cart, too, but this time we've tailored our fave products to feature the goods that'll make your international adventure a breeze — which includes everything from a cell phone plan to make Instagramming and using Google maps while abroad stress-free and affordable (finally!) to a trendy over-the-shoulder bag that's not just functional but also adorable.
If you're anything at all like me — aka one of those people who literally never knows what to wear when getting ready for work in the morning — you'll probably agree that packing for a cool vacay to a chic city is a total nightmare. Enter our Destination: Slay fashion and beauty photoshoot to ensure that whether you're headed to Mykonos or Miami this summer, you've got enough fashion, hair, and makeup inspo to kiss the night-before-you-travel freakout goodbye. You'll have the ~lewk~ to match your #mood long before you ever take off.
I can't wait for you to dive into Out Of Here and devour every photo, anecdote, and piece of advice. The world is getting smaller and smaller, which makes going to those far away places you've always dreamed of visiting much simpler. So get inspired, and then get planning. You've got somewhere to be.
-Kylie McConville, Managing Editor, Elite Daily