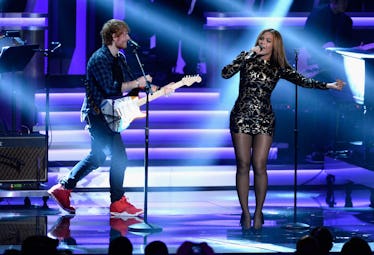 Ed Sheeran Broke His Silence On That Photo Of Him Wearing A T-Shirt With Beyoncé
Kevork Djansezian/Getty Images Entertainment/Getty Images
Ed Sheeran has been the subject of a lot of backlash lately and all because of his choice of dress for a performance with Beyoncé. The "Shape Of You" singer, who performed with Beyoncé during her Global Citizen Festival concert in South Africa, caused quite a stir with his outfit when compared to Bey's. While Bey opted for a high-fashion stage dress, Sheeran chose a simple shirt and pair of jeans. And the strange optics of their on-stage duet gave lots of people pause. But Sheeran isn't letting any of the negative feedback get to him. Ed Sheeran's reaction to backlash over his performance with Beyoncé shows he has a sense of humor.
So, here's what happened: after Bey and Sheeran took the stage at the Global Citizen Festival in South Africa, a photo of them in their oddly mismatched outfits surfaced online. And everyone on social media started taking jabs at Sheeran for his perceived lack of effort in terms of choosing his outfit when compared to Beyoncé. Many people were upset that it seemed like Bey had put way more thought and effort into her stage outfit than Sheeran did.
"Ed Sheeran is a 27 year old man the fact we've enabled him to feel it's ok to dress like this at all, let alone next to Beyoncé really boils my piss," one person tweeted.
Another user tweeted: "a pitch-perfect representation of a male vs female employee's expected level of work for the same position."
While some people, like the person above, had a go at Sheeran for his casual fashion choices, other people felt they needed to defend him.
"Hi yeah there's no gender standards when it comes to stage performances," another person tweeted. "Ed sheeran just doesnt like to dress up and never has in the past 7 years he's been performing and beyoncé has been dressing up because she loves it for the past 20+ years so please get over it thanks."
For reference, here's the outfit Sheeran was wearing:
But Sheeran wasn't satisfied to let other people defend him, so he decided to do it himself! And he did it in his Dec. 5 Instagram Story. In his Story, Sheeran included a photo of the black Hoax t-shirt he wore to perform with Bey along with a clever caption. "Swipe up to 'get the look,'" he wrote before including, "#dresstoimpress."
You can check out his Instagram Story down below:
You have to admit that it's pretty funny! Even funnier is that Sheeran followed his Story up with a plug for the clothing brand.
"Follow @hoax1994 for more of my amazing fashion choices," he wrote.
Then, the brand itself decided to capitalize off the controversy with an Instagram post of their own. They posted a photo from an article posted by Metro UK that shows Bey and Sheeran on stage.
"There's no shame wearing a HOAX t-shirt! Reload T-shirt as worn by @teddysphotos back in stock for a limited time only, link in bio #DressToImpress," they wrote in the caption of their post.
Needless to say, there's plenty of people who have Sheeran's back. And Sheeran seems perfectly happy to defend himself and even laugh about it a little.