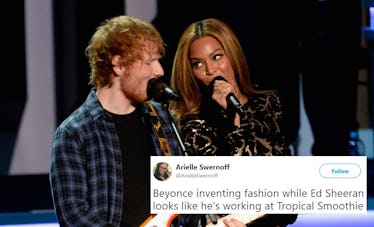 This Photo Of Beyoncé & Ed Sheeran Has Sparked Major Outrage On Twitter
Kevork Djansezian/Getty Images Entertainment/Getty Images
When it comes to Beyoncé and Ed Sheeran, most people are happy to cheer and applaud pretty much anything they do. But a recent photo of the two has sparked some serious outrage on Twitter. Why? Well, there's a huge difference in the way these two stars were dressed for the very same event. And that has people fuming over how different fashion standards are for men and women. And so many of the the tweets about Beyoncé and Ed Sheeran's outfits offer some insight into workplace double standards.
Before I get to the tweets, let me set the scene for you: Sheeran and Queen Bey performed at the Global Citizen Festival in South Africa. The two took the stage together to perform a duet and while their voices sang in total harmony, their fashion choices did not. See, Sheeran opted for a black t-shirt and a pair of jeans, while Bey went for a look that was more high fashion. Needless to say, they looked every inch the odd couple up there on that stage. And the photos of them at the event are making fans furious about how Sheeran seemingly didn't put much thought into his overall look, while Bey clearly chose her outfit very carefully.
Obviously, Bey thought this concert was the kind of event at which she should put her best foot and fashion forward. But Sheeran seems to have taken a more casual approach. And that is what many are referring to as a double standard. Why? Well, here are two people doing the exact same job, but only one felt it necessary to dress up for the occasion. Of course, they both have different styles and their respective audiences expect different things from them. But people are miffed that guys like Sheeran "get away" with dressing down while women like Bey are "expected" to look their best 100 percent of the time. This double standard is what's made Twitter blaze with fury over the whole thing.
Some people are obviously and understandably up in arms about this double standard:
These are the kind of folks who probably feel like Sheeran didn't even deserve to share the stage with Bey. But the two have shared the stage before and probably will again.
In any case, other people on Twitter thought all the "double standard" talk was ridiculous and said so quite plainly:
Needless to say, there are a bunch of different opinions floating around out there. It doesn't seem like Bey was bothered at all by Sheeran's choice of clothes. Overall, they seem like really good stage buddies, and it seems like they enjoy working together, so I'm sure their individual outfits weren't even an issue for them. And besides, I'm pretty sure they both dressed in what felt most comfortable.
All that said, though, there are still double standards when it comes to how women and men dress in various industries. So, I can definitely see why people took issue with what Bey and Sheeran were wearing.