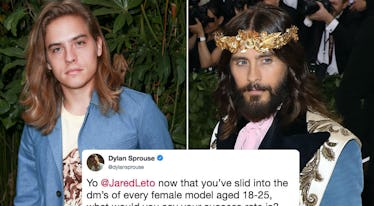 Dylan Sprouse Just Blasted Jared Leto For Allegedly Sliding Into Models' DMs & DAMN
Rich Fury / Stringer / Getty Images; Taylor Hill / Getty Images
Dayumm, Dylan Sprouse, tell us how you really feel! The Suite Life of Zack & Cody actor got a little saucy on Twitter on May 16, and you guys, it's a lot to take in. Dylan Sprouse's tweet to Jared Leto shows that apparently, he is having none of Leto's games, and I am living for it. This small little tweet packs one mean punch, though, so buckle your seat belts, because this is going to be a wild ride.
Here's what went down: Dylan Sprouse — who took a brief hiatus from the Hollywood spotlight after he and his twin Cole wrapped up The Suite Life On Deck back in 2011 — unexpectedly threw shade at actor Jared Leto on Twitter in the wee morning hours of Wednesday, May 16. But we're not talking about some subtle words, here. Sprouse called out Leto for his reported womanizing ways, asking him what his "success rate" is after allegedly sliding into young women models' DMs. He wrote,
Yo @JaredLeto now that you've slid into the dm's of every female model aged 18-25, what would you say your success rate is?
Elite Daily reached out to Sprouse and Leto's teams regarding the reports but did not hear back by the time of publication.
While some might think that Sprouse is just joking around, methinks there's a little bit more at stake here.
And, while Leto hasn't responded back to the tweets just yet, actor James Gunn did, quipping, "He starts at 18 on the Internet?"
I don't know if I should feel bad for Jared Leto, or if he sort of deserves it (if he has been sliding into hundreds of DMs, I'm going to say he probably deserves it).
But either way, it's nice to see Dylan Sprouse come out of the woodwork, especially considering we've been seeing a ton of his twin brother, Cole.
Dylan Sprouse is actually going to be starring in an upcoming indie film, Carte Blanche, directed by Eva Doležalová, who has been posting pictures of Sprouse on Instagram, because whatup publicity?
And to mark his return to Hollywood, Dylan's twin Cole Sprouse had the absolute best reaction, taking to Twitter to roast his brother. He screenshotted a headline about Dylan returning to acting, and Cole wrote, "Hey can you return my f*cking t-shirts too?"
Classic sibling move right there.
Not one to be shown up, Dylan responded by tweeting, "I don't wear them, I use them as toilet paper."
Gotta love the bond between brothers, amirite?
It's not like Dylan and Cole are new at the whole Twitter roasting thing, though. I mean, check out this hilarious banter exchange between the two from March of 2017:
I would pay so much (I'm talking upwards of $10 here) to have Dylan and Cole Sprouse acting together again, and clearly I'm not the only one because many fans have asked for Dylan to be a guest on Riverdale, where Cole Sprouse stars as Jughead Jones. But it ain't happening, people. In a recent interview with Glamour, Cole was asked what the chances were that fans would see Dylan make a guest appearance on the show, and he shot down those thoughts real quick. He said,
I wouldn't want it, Dylan would never do it, and I think it would break fourth wall too much. A lot of my fans from the Suite Life still come up and say, 'This would be fun!' I think it would just be silly. It would be super, super weird and totally not appropriate.
Bummer. Sprouse added that it's just not something either twin would seriously consider, and said, "I also just don't think Dylan wants to; to be honest, I wouldn't want to either. People want to see us onscreen together again, and that's fine. That's flattering, I guess."
Damn. Looks like we'll just have to watch Cole all by his lonesome on Riverdale, which was probably his evil plan all along.
These two have done so much in their lives as a unit, so I think it's great that each is doing their own thang. At the very least, we still have beautiful memories of Dylan and Cole, hair-flipping their way through their entire youth together.
God bless.