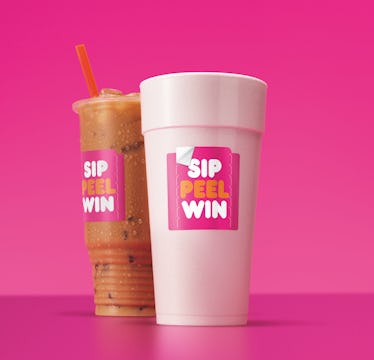 You Could Win So Many Donuts With This Dunkin' Donuts Game Reboot
Dunkin' Donuts
I really, really hate to be the bearer of bad news, but it looks like summer is officially coming to an end. School's about to be back in session, the summer sun will be gone before you know it, and pretty soon, it'll be freezing cold winter. Ruh roh. And although you'll be spending most of your days catching up on work and staying inside, Dunkin' is giving coffee lovers a reason to cheer the heck up. So in case you haven't heard, Dunkin' Donuts "Sip. Peel. Win." game is coming back, and I'm hoping to win some really dank prizes.
Since you're probably going to need coffee, coffee, and... wait for it... even more coffee to get yourself through syllabus week and the start of classes, Dunkin' is relaunching their famous (and super exciting) contest known as "Sip. Peel. Win.," for the second year in a row, according to a press release, and it's just so good.
Between Monday, Aug. 27 and Oct. 15, customers who buy a large or extra large hot, iced, or frozen beverage at participating DD locations will receive a "Sip. Peel. Win." peel-off sticker on their cups. After receiving your drink, you'll simply peel off the sticker to see if you've won anything. If not, you can try again tomorrow, or even later that day. I imagine that winning feels like Charlie finding the the Golden Ticket, so be prepared to dance just like Grandpa Joe.
The prizes are super tantalizing, and they vary tremendously. Through Sip. Peel. Win., according to a press release, you could snag free Dunkin' coffee for one year, free and discounted Dunkin' Donuts menu items, some of $500,000 worth of DD cards, movie tickets, sports gear, K Cups, and even a Grand Prize JetBlue vacation.
Yes, you heard that correctly, and I'm really banking on a free trip to Hawaii right now, so cross your fingers for me. Please and thank you.
The chance to win free Dunkin', K-Cups, and a vacation won't the only thing you should look forward to on Monday, Aug. 27. Finally, you'll be able to — once again — order everyone's seasonal favorite, pumpkin-flavored coffee, at participating Dunkin' Donuts locations across the U.S. I know, I'm freaking out too, because this is truly all I could have ever wanted in life. While I recognize that the end of summer can be extremely disappointing, you'll be loving life between free prizes, and pumpkin spice coffee. Trust me on this one.
Trust me, I know that the end of summer is always kind of disappointing. Luckily, though, DD is cheering up coffee fans throughout the U.S. with loads and loads of free prizes. This definitely gives me something to look forward to, and you bet your money I'll enter daily. TBH, I'd be overjoyed to win free coffee, movie tickets, or even sports gear, so be prepared to see me drinking a ton of extra large pumpkin spice coffees, starting Monday, Aug. 27. The end of summer is about to get really, really caffeinated, y'all, so prepare yourselves.