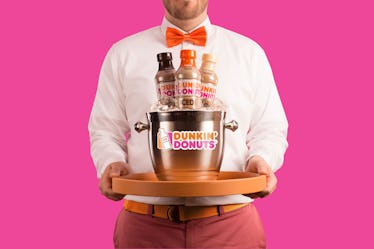 Free Dunkin' Donuts Bottle Service Exists & Here's How You & Your Work Wife Can Get It
Dunkin' Donuts
If you're a coffee lover who swoons every time you get a whiff of Dunkin' Donuts, you might want to sit down for the scoop I'm about to tell you. Dunkin' Donuts has combined the ballin' life of bottle service with refreshingly smooth caffeinated beverages. On Thursday, June 21 — aka, the longest day of the year — Dunkin' Donuts bottle service will hit the streets of New York City. They'll be serving up their bottled iced coffee you love so much, and all you have to do is push a button to receive your refreshments. Convenient much?
The whole concept is clever. You know you'll need more than just your morning cup of coffee to get you through those extra hours of sunlight. Thankfully, Dunkin' Donuts is here to save the day, bringing refreshing bottled iced coffee right to you, so you can get the energy boost you need. America is really about to run on Dunkin', and this means you and your work wife can skip the trip to the coffee shop on your lunch break and reap the benefits of this dope service instead.
I don't know about you, but having coffee delivered to you (with almost no effort on your end) beats any bottle service you can get in the club. Not to mention, this is a free service. Anything that's free naturally tastes better, am I right?
Where can you enjoy this refreshing bottle service?
Dunkin' Donuts will deliver their signature bottled iced coffee to anyone who pushes the "emergency" button. In other words, anyone who is in dyer need of a pick-me-up during a day that's going to drag on, ought to make use of it.
The beacons will be located in Union Square and Bryant Park, so if you are within walking distance to these locations, I suggest running — not walking — so you can get your hands on a bottle as soon as possible. This service is only a day-long affair, and you'll experience so much FOMO if you don't participate.
Which iced coffees can you get?
Everyone has their favorite flavors when it comes to iced coffee. For the longest day of the year, Dunkin' Donuts is going to have a good portion of their yummy flavors up for grabs, including Mocha, Original, French Vanilla, Cookies and Cream, and Espresso.
Honestly, all of those options sound so delicious, it might be hard to choose. Oh, and don't worry about the heat turning your iced coffee into a macchiato by the time is gets to you. The street teams are not only providing convenience, but they're keeping those beverages cold for you.
Grab a gang from the office and celebrate the summer solstice by sipping on refreshing iced coffee. It'll be a reason for you to enjoy the outdoors a bit, since it is going to look like day time for longer than usual. Thanks to Dunkin' Donuts, you won't have to experience that afternoon crash.
Not located in NYC? Don't worry, you can still enjoy a perk.
Obviously, not everyone lives in New York, so Dunkin' Donuts didn't forget about people all over the country. If you head over to DunkinBottleService.com, you can redeem a coupon for your own refreshing iced coffee to savor on June 21. You can find these babies blessing tastebuds nationwide, so join in on the iced coffee shenanigans, even if you aren't in New York.
If you're stuck in the office for the majority of the day tomorrow, your free iced coffee is going to having you kickin' back, sippin', and relaxing. On behalf of all coffee lovers: Dunkin' Donuts, you are the real MVP.