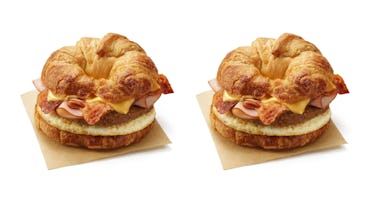 Dunkin' Donuts' All You Can Meat Sandwich Is Here For When You're Totally Undecided
Dunkin' Donuts
Some things are just better left to the experts. For example, take Dunkin' Donuts' new All You Can Meat breakfast sandwich. It is the perfect trio of bacon, ham, and sausage for those mornings when you can't decide on which meat you want to accompany your eggs and cheese. Nothing is worse than when you are hungry but having trouble settling on exactly what it is you want to eat. Dunkin' Donuts' new All You Can Meat breakfast sandwich has everything you want to get your day started off right.
Dunkin' Donuts is the king of fast food breakfast, in my book. It comes as no surprise to me that the doughnut and coffee shop would invent a three-meat sandwich to get you powered up for the day ahead. Let go of any decision making, because Dunkin' Donuts is delivering on all things breakfast with this bad boy. The All You Can Meat sandwich is loaded up. It's got two strips of bacon, two slices of ham, and one sausage patty, according to Dunkin' Donuts.
Although it may be hard to believe, there's more to this hearty sandwich than just meat. Underneath the tower of breakfast meats is an egg and slice of melted American cheese. The sandwich is held together by Dunkin' Donuts' signature flakey and buttery croissant, which is oven-toasted for a slight crunch. This sandwich is a force to be reckoned with.
Dunkin' Donuts All You Can Meat sandwich is for those of you (ahem, myself included) who are indecisive, especially when it comes to mealtime. I love a thick crispy slice of bacon or a juicy piece of ham, but I also love a sausage patty for a little extra heat in the morning. I'm usually that person who goes back and forth between several different things on the menu before placing my order, so I think this sandwich is pretty genius.
This isn't the only great sandwich deal to be had at Dunkin' Donuts right now, though. The fast-food chain is currently offering a deal on its classic Bacon, Egg, and Cheese sandwich. Starting Tuesday, Oct. 2, you can order two Bacon, Egg, and Cheese breakfast sandwiches from Dunkin' Donuts for a total of $5. That's right, two sandwiches for only $5. That's a super cheap deal if you ask me. Most days my iced coffee alone runs close to $5 a cup. You can enjoy both for yourself or share with a friend. Either way, it's a win-win. This offer is valid through Sunday, Dec. 30, and does not apply to the All You Can Meat breakfast sandwich.
Dunkin' Donuts also has a few other great deals happening during the month of October. Right now, DD is offering any sized iced coffee for just $2 when you order between 2 p.m. and 6 p.m. until Nov. 18. You can also get a complimentary order of Donut Fries with any DD Iced Coffee purchase made between Friday, Oct. 5, and Sunday, Oct. 7, from 2 p.m. to 6 p.m.
There's a lot of delicious Dunkin' deals to be had. Of course, there's nothing stopping you from indulging in the All You Can Meat sandwich as a mid-morning snack or for lunch. I don't make the rules here, but I support enjoying this hearty sandwich all day long. (Just don't forget the coffee!) The All You Can Meat breakfast sandwich is currently available for purchase at participating Dunkin' Donuts locations throughout the country.