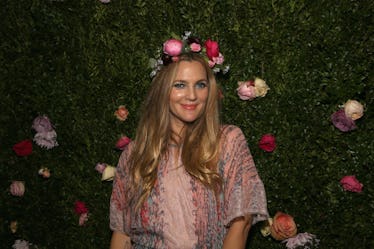 Drew Barrymore Posted A Video Of Herself Sweating Her Ass Off In Yoga & Honestly, It Me
Paul Zimmerman/Getty Images Entertainment/Getty Images
Drew Barrymore is the queen of keeping it real. Her Instagram is full of makeup-free selfies, realistic mom moments, and messy bathroom pics — and her latest post is no exception. Drew Barrymore's yoga Instagram proves that the workout is seriously no joke. Glowing with exertion, she flashes the camera at her yoga mat, which is dotted with her own sweat. This is no "I'm chilling on a mat looking super zen" selfie that many people might associate with yoga, but rather, a realistic look into the intense workout that yoga can often be.
Personally, before I took my first yoga class, I expected the entire session to be more savasana — aka the "corpse pose" where you lay flat on your back — and less navasana, which is the "boat pose" where you're folded in half and your abs are dying. Of course, some yoga practices are focused on relaxation and gentle breathing. I am totally here for child's pose, or any pose that allows me to fall asleep on a cushy mat. But if you're looking for a way to crush a cardio session while staying out of the suffocating summer heat, a more intense yoga flow may work for you. "It's attitudinal, it's empowerment, it's confidence," Barrymore told TODAY in a January 2017 interview, in which she explained her motivation for maintaining a healthy lifestyle.
Now that I've taken a few more yoga classes, I absolutely know what the Santa Clarita Diet star means: There's nothing like being covered in your own sweat to make you feel like a total badass.
As a self-proclaimed foodie, Barrymore told James Corden back in March that she'd eat fettucine alfredo "all day long" if she could (same, girl), and that she "hates" dieting (again, same). In preparing for her starring role on Santa Clarita Diet, the 43-year-old actress told Corden she was looking to eat healthier and change her lifestyle, not so much to look a certain way, but so she could move from feeling "naive and unhappy" to "empowered and alive." Amen to that, Drew.
If you follow the 50 First Dates actress on social media, then you probably know she regularly supplements her nutrition with a series of super fun and empowering workouts, all of which look just as inspirational as the yoga video she posted on Instagram.
And if you're like me, then Barrymore's newest video has probably made you want to dive in to some sweat-tastic yoga yourself.
If you're looking for a yoga workout that challenges all of your muscles, instead of just one specific area, SELF recommends this easy-to-follow power yoga routine that will get your blood pumping in no time. It only takes 20 minutes — but trust me, a lot of sweating can happen in 20 minutes.
Craving a good, sweaty workout? Taking a hot yoga class will probably leave you as sweaty as Barrymore in that Instagram video, but you can still get your heart rate up at home, too, if that's your jam. Try sweating it out with some of these butt-kicking yoga poses to feel like an absolute warrior in the comfort of your own living room.
Or maybe you're looking to gain the more specific health benefits that come with having a strong core, which Harvard Medical School says will not only improve your posture, but your balance, as well. There are plenty of yoga poses that help improve your posture, and before you know it, you'll be standing taller and stronger than ever.
Yoga can also be a great way to boost your confidence, and Barrymore's focus on empowerment in her fitness routine is super inspirational. So if that's something you're looking for in your own workouts, there's a simple yoga pose that both strengthens your muscles and builds your self-assurance: Plank pose is Michelle Obama-approved, and if I had even one-tenth of her arm strength and her ability to inspire greatness, I would be incredibly confident.
Of course, your own yoga practice doesn't have to be strictly strenuous or totally relaxing — you can always alternate between the two. After following in Barrymore's sweaty footsteps, try allowing your breath to return to normal with a cool-down yoga routine. Extra points if you can sneak your cat into your yoga workout, Jonathan Van Ness-style.