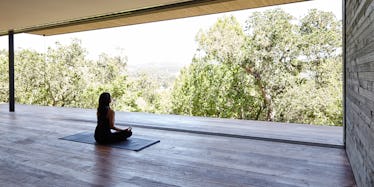 Here's Why The Most Basic Yoga Poses Are Actually The Most Important In Your Practice
If you're new to yoga, that feeling of anticipation to roll out your mat each day is truly magical, to say the least. You fantasize about flowing at your favorite class while you're at work, and you low-key long to achieve the more advanced asanas that your fellow yogis are doing alongside you in the studio. However, the most basic yoga poses are actually the most essential, regardless of whether or not you're a beginner. These poses provide the foundation for a strong and balanced yoga practice, and it's important to establish a solid relationship with them from the get-go.
Though poses like downward facing dog and child's pose aren't exactly the most "impressive" or "flashy," they're actually even more important than the advanced postures, because mastering the basics provides the building blocks and stability for your entire practice. I remember, when I was training to become a certified yoga teacher, we did hundreds and hundreds of chaturangas. At the time, I hated it, but now, I know that it's made me incredibly powerful, and it's even helped me develop a profound sense of respect toward my body and mind, and all that they're capable of in my yoga practice.
It's important to take your time teaching yourself how to do each beginner yoga pose so that your body will become accustomed to and familiar with these various shapes. All of these basic yoga poses are so integral to your overall practice, so remember to trust the process, be mindful of your alignment, and know that the strength behind these simple asanas is being developed behind the scenes to help you grow into the strongest version of yourself.