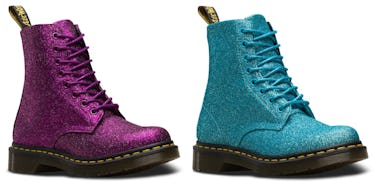 Doc Martens Just Dropped Glittery Boots That Will Literally Give You Twinkle Toes
Doc Martens
If you want to get a head start on your fall shoe shopping I've got the perfect place to start. One of the most iconic footwear brands around just dropped a new collection of eye-popping kicks and I guarantee you'll want a pair. Dr. Martens glittery Pascal boots are here to put all other sparkly shoes to shame so if moto-meets-magical sounds of interest to you get excited for what's to come.
Dr. Martens hold a special place in my heart and memory. I wore a pair of pumpkin orange Pascal boots stamped with red and blue hand prints all throughout the second and third grades (my mom was excellent at buying things one size too big for me and my sister to grow into) and I remember absolutely loving them. They came with me on a family trip to London (I paired them with bright red pants and a mustard yellow sweater one day—YES, little me) and I felt like the coolest kid on the block when I wore them.
You see, there's something about Dr. Martens boots that bring out your inner badass and it's why I've been wearing them for the past 20 years. (The ones I wear now are all-black, for the record.)
Imagine, then, being able to channel that same badass feeling while also channeling the vibrance of a magical unicorn. That's the sensation that I imagine wearing a pair of Dr. Martens' new uber glittery boots might give you. Available in four dazzling hues, each boot boats an all-over glittery shimmer and is complete with matching satin ribbon laces. Dr. Martens' signature yellow stitching punches up the midsoles of each style for a classic meets modern effect.
The first color way is a pale gold, which is shockingly the most subtle of the offerings. If camel colored Uggs are your thing during colder months, consider these as their nightlife appropriate counterpart.
Next up is the pewter option, which is the darkest offering of the bunch. (New Yorkers that live in head-to-toe black, take note.) This color way reminds me of space, freshly laid asphalt, and witches—needless to say, it's my favorite. (I am one of those aforementioned New Yorkers.)
Then there's the turquoise option, which is arrestingly bright and is what I'd imagine mermaids would want to wear on their feet if given legs a la Ariel.
And finally, there's a vibrant purple style—the color is more of a magenta and when light hits it little flecks of silver shine through. Prince would've absolutely slayed in these shoes.
If any of these boots are catching your eye (and how could they not), head to the Dr. Martens website right now to snag a pair for yourself. At $120 per pair they're excellently priced, especially when you consider that Dr. Martens is known for being a super high quality and durable brand. They've been around since 1960 so they know a thing or two about consistency and longevity.
Gray winter months can be huge gloomy downers—why not brighten them up with some twinkly feet?