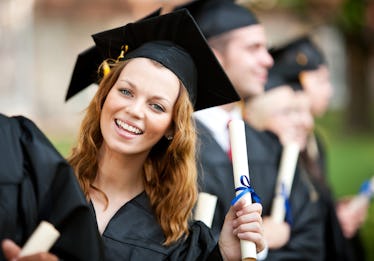 All The Reasons You Definitely Don't Need To Worry About Getting A Ring By Spring
Have you ever heard anyone say that women go to college to get an MRS degree? That is, to become a ~Mrs.~ Same. And it's utter bullsh*t. College is a time for education, exploration, and testing your body's limits to see just how long you can run on black coffee and Saltines during finals week. Snagging a "ring by spring" shouldn't be your top priority. So, if you're currently experiencing the fever dream that is senior spring and worried about not being engaged by the time graduation rolls around — stop stressing, sister!
Easier said than done, I know. But seriously, you guys. There is absolutely no rush. (I mean, there's sorority recruitment. But that's a very different kind of rush.)
In a 2013 report from the University of Virginia's National Marriage Project — aptly titled "Knot Yet: The Benefits and Cost of Delayed Marriage in America" — research revealed that the average age at which women get married has hit an all-time high at 27 (29 for men), a number that was only expected to increase in the coming years. Across the pond, wedding planning site Bridebook.co.uk concluded that most women didn't drop their single lady status until they were nearly 31 (Meghan Markle is 36, BTW!).
In other words, the majority of women are waiting six to 10 years between tossing mortar board caps at commencement and a bouquet on their wedding day. And it makes total sense. Here are five great reasons to stop sweating over a prospective wedding while you're in college — because trust me, you have so much time.