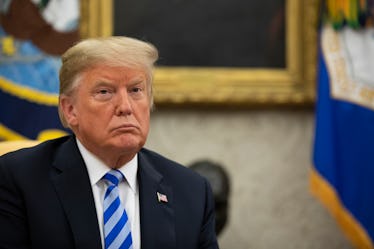 Donald Trump Threatened To Write His Own Tell-All Book Because Why Not
Pool/Getty Images News/Getty Images
Another day, another angry tweet from Donald Trump. Tensions have certainly risen since Washington Post reporter Bob Woodward's upcoming book Fear: Trump in the White House was leaked to publications, and Donald Trump's tweet about writing a tell-all book is proof of that. It's time to put pen to paper, Mr. President.
On Monday, Sept. 10, Donald Trump took to Twitter as yet another attempt to discredit Woodward's book, which is set to be released Tuesday, Sept. 11. Not only does he claim the book is an "assault" against him and that quotes used in Woodward's book are "fiction," but he takes it one step further by threatening to write his own tell-all book in retaliation. I would like to see him try, to be honest. He wrote,
The Woodward book is a Joke - just another assault against me, in a barrage of assaults, using now disproven unnamed and anonymous sources. Many have already come forward to say the quotes by them, like the book, are fiction. Dems can't stand losing. I'll write the real book!
Let's just take a moment to imagine Donald Trump's tell-all presidential book becoming a reality. I have to admit, he certainly would have a lot to write about.
It's not surprising that Trump is pretty upset about Woodward's project, especially since it reportedly casts a very grim light on his current presidency. In the first excerpts from the book which were revealed on Sept. 4, Woodward claims that Trump reportedly flunked a practice interview with Robert Mueller's investigation into possible collusion between Russia and the Trump 2016 campaign, which the president staged with his attorney John Dowd. In addition, Woodward gives some insight about the supposed goings-ons behind White House doors, such as aides reportedly hiding papers from Trump so he can't sign them on impulse. Elite Daily reached out to the White House at the time about the reports in Woodward's book, but did not hear back.
Since the book was leaked, the Trump administration has adamantly claimed that Woodward's stories are completely fictitious. On Sept. 4, White House Press Secretary Sarah Huckabee Sanders released a statement denouncing the book, calling it "fabricated." She said,
This book is nothing more than fabricated stories, many by former disgruntled employees, told to make the President look bad. While it is not always pretty, and rare that the press actually covers it, President Trump has broken through the bureaucratic process to deliver unprecedented successes for the American people. Sometimes it is unconventional, but he always gets results. Democrats and their allies in the media understand the President's policies are working and with success like this, no one can beat him in 2020 — not even close.
The Trump administration may be calling Woodward's bluff, but the reporter in question apparently stands by his book. On Sept. 10, Woodward spoke to NPR about the controversy surrounding his book, and said that his recollections of Trump's actions are completely accurate. He continues to address the administration's attempt to discredit his work, and says that they're doing it "out of political necessity."
"You crank out the great Washington denial machine," said Woodward, who famously broke the Richard Nixon Watergate scandal in the 1970s. "Time and time again people will deny things," he continued. "But I've done hundreds of hours of interviews with people. ... These things happened."
No matter what, there's no doubt that tea will be spilled once Woodward's book is officially released. Hey, at least Trump will have a good reference for the first draft of his own tell-all project.