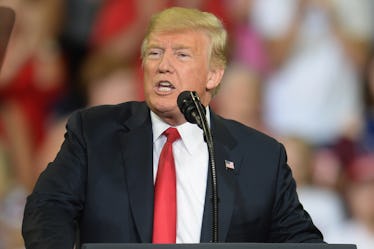 Donald Trump Went Ballistic Over The Latest Book About White House Dysfunction
Michael B. Thomas/Getty Images News/Getty Images
Another day, another book about President Donald Trump's White House. First, there was Michael Wolff's Fire and Fury, then came Omarosa Manigault's Unhinged, and now there's legend Bob Woodward's Fear: Trump in the White House. You might have already been able to guess but, Donald Trump's tweets about Bob Woodward's book Fear are not very happy. Shocker.
Woodward's latest book Fear will be released on Sept. 11, 2018 and it's all about Trump's reportedly dysfunctional White House. The Washington Post reported that the account, taken from hundreds of hours of interviews from White House insiders, paints a picture of an unhinged administration with an impulsive leader at the helm. Fear makes a lot of claims about what goes on behind closed doors, like aides reportedly removing and hiding papers from Trump's desk so he doesn't impulsively sign them, and that Trump reportedly completely failed during a mock interview to practice testifying before the Russia investigation. Elite Daily reached out to the White House for additional comment on the book and its claims, but did not immediately hear back. In a statement, White House Press Secretary Sarah Huckabee Sanders denounced the book, calling it "nothing more than fabricated stories, many by former disgruntled employees, told to make the President look bad."
In light of the accusations, Trump wasted no time taking his thoughts to Twitter. On Sept. 4 he accused Woodward of being a "Dem operative." Trump wrote,
The Woodward book has already been refuted and discredited by General (Secretary of Defense) James Mattis and General (Chief of Staff) John Kelly. Their quotes were made up frauds, a con on the public. Likewise other stories and quotes. Woodward is a Dem operative? Notice timing?
Trump then sent out another tweet a few hours later, once again trying to discredit Woodward's book. In his tweet, Trump denies Woodward's claim that the president called Attorney General Jeff Sessions "mentally ret*rded" and a "dumb southerner." He wrote,
The already discredited Woodward book, so many lies and phony sources, has me calling Jeff Sessions "mentally ret*rded" and "a dumb southerner." I said NEITHER, never used those terms on anyone, including Jeff, and being a southerner is a GREAT thing. He made this up to divide!
After Tuesday's tweets, Trump wasn't quite finished discussing Woodward's book or its claims. On Sept. 5 the president sent out an early morning tweet, and this time went after Washington politicians for not changing libel laws.
At one point in the book, Woodward writes that during a small group meeting Chief of Staff John Kelly reportedly said that Trump is an "idiot," according to The Washington Post. According to Woodward, Kelly said,
He's an idiot. It's pointless to try to convince him of anything. He's gone off the rails. We're in Crazytown. I don't even know why any of us are here. This is the worst job I've ever had.
Kelly wasn't the only one who reportedly made comments questioning Trump's intelligence and ability to properly lead the country. The Washington Post reports that Woodward also claims in Fear that after a National Security Council meeting, Defense Secretary James Mattis described Trump as having the understanding of a "fifth or sixth grader." Both Kelly and Mattis have denied making any such comments.
Trump might have chosen to go after the book, but Woodward also released audio from a reported call between himself and Trump. According to CNN, before news of the book hit, Trump called Woodward in August claiming he didn't know about the book and to see why Woodward never tried to reach him to talk. However, on the reported call, Woodward explains to Trump that he tried to get in touch with him many times. Elite Daily reached out to the White House for comment about the call, but did not hear back.
Woodward's book has not been released yet, but things should get even more interesting once it's out to the public.