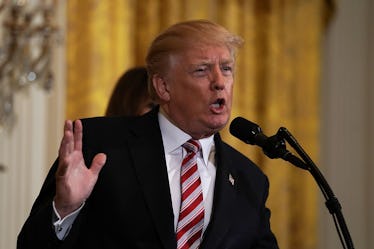 Donald Trump's Tweet About The Florida School Shooting Misses The Point
Alex Wong/Getty Images News/Getty Images
As the leader of the United States, President Donald Trump is tasked with handling tragedies like the Parkland, Florida school shooting on Feb. 14, 2018. Before addressing the nation from a podium, the president took to Twitter — and Donald Trump's tweet about the Florida school shooting completely misses the point. President Trump tweeted about the mental state of the alleged shooter on Thursday, Feb. 15, and the president conveyed his belief that "neighbors and classmates" didn't do enough to report the alleged shooter to authorities.
Many people who read the tweet believe that Trump essentially said that people who knew the alleged shooter didn't do enough prevent the shooting. This interpretation of the president's tweet doesn't appear to be that far off. He wrote,
So many signs that the Florida shooter was mentally disturbed, even expelled from school for bad and erratic behavior. Neighbors and classmates knew he was a big problem. Must always report such instances to authorities, again and again!
It appears that the president is reprimanding and blaming the Parkland community for not preventing the shooting.
The tragedy saw 17 lives taken at the hands of the alleged shooter, and The New York Times reported on Feb. 15 that the alleged shooter has been charged with 17 counts of premeditated murder.
Reactions to Trump's tweet have not been very positive. President Trump didn't put forth any remedies to prevent mass shootings in his tweet beyond putting the onus on communities to report potentially harmful individuals to authorities. One Twitter user who is presumed to be a student at the Florida high school responded to President Trump's earlier tweet in which he sent "prayers and condolences to the families." She goes by Sarah (@chaddiedabaddie) on Twitter, and in her message to Trump, she wrote, "Do something instead of sending prayers. Prayers won't fix this. But gun control will prevent it from happening again."
While you might want to be surprised that President Trump doesn't once mention guns in his tweet about a mass shooting, you'll recall that back in October 2017, the White House responded to the Las Vegas shooting, which was the deadliest mass shooting in the U.S., with a similar tone. During a White House press briefing the day after the Vegas shooting in October, The Hill reported that White House Press Secretary Sarah Huckabee Sanders responded to a question about gun control by shutting down the conversation. She said, "There's a time and place for political debate but now is time to unite as a country."
If you wanted to interpret President Trump's recent tweet as a call for more government intervention in terms of getting people with mental health problems more help and hopefully preventing their access to guns, people were quick to provide evidence that is likely not the case. One Twitter user replied with an NBC News story from Feb. 28, 2017 that reported President Trump signed a bill into law that rolled back a regulation that made it harder for people with mental illnesses to buy a gun. The regulation that was rolled back by Trump was put into place by former President Barack Obama in 2013, following the 2012 Sandy Hook shooting in Connecticut that left 20 children dead.
Still, people are pushing the Trump narrative of focusing on the mental state of the alleged shooter (rather than also including a conversation about gun control), and they are using the highly divisive political landscape to do so. Fox News contributor and no stranger to political controversy, Tomi Lahren, tweeted about the Parkland shooting, and she called for Democrats for take "even 24 hours before they push their anti-gun and anti-gun owner agenda." She further claimed, "This isn't about a gun; it's about another lunatic."
In response, Twitter user Carly (@car_nove) who is presumably a student at the Florida high school were the shooting occurred urged Lahren to understand that, as someone who reportedly experienced the mass shooting firsthand, Carly believes that the problem is "about guns." Carly shared that she hid for two hours in a closet during the shooting, and she says that you can't understand how it felt unless you were there. She wrote,
I was hiding in a closet for two hours. It was about guns. You weren't there, you don't know how it felt. Guns give these disgusting people the ability to kill other human beings. This IS about guns and this is about all the people who had their life abruptly ended because of guns.
It's devastating accounts like Carly's that make people question why the response from President Trump is absent of any mention of gun control. Trump focused in his tweet about the shooting on what he presumably views as the lack of reporting by the Parkland community. His call to report possibly dangerous individuals with a history of mental health problems wasn't enough for many people. Many people are urging for stronger gun control or at least the possibility of a real conversation surrounding the issue, and leaving that out of his tweet response was seemingly a big miss by President Trump.