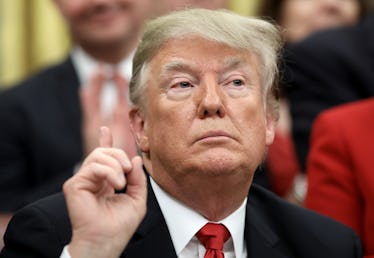 Donald Trump Is Still Urging Democrats To Vote For Wall Funding In The Wake Of The Shutdown
Win McNamee/Getty Images News/Getty Images
The year 2018 is proving to be relentless all the way to the finish line. After a tumultuous 12 months, the second year of Trump's presidency is going out the way it came in (almost) — with a government shutdown. Despite frantic attempts at passing a budget bill that would keep the government open past a Friday, Dec. 21 deadline, at midnight the clock ran out and the government officially went into a partial shutdown. But while politicians and government officials may be bemoaning this turn of events, there's one person who's got a different take. President Donald Trump's tweet about the 2018 government shutdown was a video about wall funding and seemingly blaming the Democrats for the shutdown. Elite Daily reached out to the White House for further clarification of the President's video tweet, but did not hear back at the time of publication.
The sticking point of the budget negotiations that ran out on Friday night was reasonably singular: Trump wanted $5 billion to build a wall on the Mexico-U.S. border, which Congress was unwilling to approve. The wall, which is proposed as a way to stymie illegal border crossings but comes with a cartload of logistical and administrative problems, has been a regular talking point of Trump's. However, despite the president's enthusiasm for the project, Congress has been more skeptical, with Democrats offering the still-substantial sum of $1.3 billion. In a recent wild (and filmed) meeting with Democratic congressional leaders, Trump got into a confrontation with Rep. Nancy Pelosi and Sen. Chuck Schumer over the wall, and proclaimed that he was "proud to shut down the government for border security" if Democrats were unwilling to give him his desired funds.
"I will be the one shut it down, I'm not going to blame you for it," Trump said.
Well, the President took another route in his video tweet on Friday night. Captioned with, "OUR GREAT COUNTRY MUST HAVE BORDER SECURITY!" President Trump said, in part,
We're going to have a shutdown — there's nothing we can do about that, because we need the Democrats to give us their votes. Call it a Democrat shutdown. Call it whatever you want, but we need their help to get this approved.
The White House did not immediately respond to Elite Daily's inquiry for further comment on the President's video message.
The President began the video with rhetoric that harkened back to his 2016 presidential campaign when he said,
Our great country must have border security. We don't want people coming that aren't supposed to be here. We want people to come in through a legal process. It's very dangerous out there. Drugs are pouring in, human trafficking... So many different problems, including gangs like MS-13. We don't want them in the United States. We don't want them in our country.
Before calling it a "Democrat shutdown," Trump put the onus on the Democrats to end the shutdown when said in the video, "Now it's up to the Senate, and it's really up to the Democrats, because we need their votes. There's no way it can pass without their votes." Even though the President added a call to "be bipartisan" at the end of his speech, it didn't appear that a compromise on wall funding was on the table, especially given that the President previously said in the video, referring to immigrants at the border,
The only thing that's going to stop that is great border security, with a wall, or a slat fence, or whatever you wanna call it.
The White House did not immediately reply to Elite Daily's request for further comment on the President's video message.
Ironically, this isn't even the first government shutdown in 2018 (although, yes, technically we're in the 2019 fiscal year, which started in October). Back in January, the government shut down for two days, from Jan. 20 to Jan. 22, and was over disputes about — you guessed it — immigration and the border wall. The shutdown 11 months ago, however, was primarily over the Deferred Action for Childhood Arrivals (DACA) program, which allowed young people who had been brought to the United States as children a path towards a legal status, and allowed them to work and go to school. Barely two weeks later, there was another shutdown, which lasted for less than 12 hours on the night of Feb. 8. While Trump has previously said he's "prepared for a very long shutdown," the President ended his Friday night video by saying, "The shutdown hopefully will not last long." Although, it doesn't sound like the President is willing to bend on wall funding, so you'll have to wait and see.
In the meantime, the results of a government shutdown are not great. Some 800,000 government employees would not get paid for the duration of the shutdown, but about 420,000 of them — considered "essential" personnel — would have to keep showing up to work anyway and hope Congress approves back-pay after. Public parks would close, too, so there goes your holiday ice-skating trip. Good news for everyone shipping their holiday gifts, though: the USPS doesn't close in a shutdown. Less-good news for certain members of Trump's 2016 presidential campaign: neither does Robert Mueller's investigation into possible collusion between the Trump campaign and Russia.
Well, with the third government shutdown of 2018 officially on the books, you can't say the year's not fulfilling its reputation. Here's hoping for a better-funded 2019.