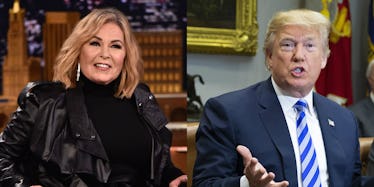 Trump Finally Tweeted About 'Roseanne' & Made It All About Himself, Of Course
Theo Wargo/Getty Images Entertainment/Getty Images / Pool/Getty Images News/Getty Images
On Wednesday, May 30, the moment all of America had been waiting for finally happened. That's right, Donald Trump tweeted about Roseanne getting canceled. This heavily expected tweet came just under 24 hours after ABC canceled the reboot of Roseanne, and Trump's reaction was about as Trumpian as he could get (yes, it would have been more Trumpian with a #MAGA, but otherwise).
In his tweet about Roseanne, Trump did not focus on Roseanne Barr, the woman herself at the center of the show and whose racist and conspiracy-laden tweets led to the show being canceled on Tuesday. Instead, Trump turned the conversation to himself, calling on ABC to be nicer to him. In the Wednesday tweet, Trump took issue with Bob Iger, the chairman and CEO of Disney, which owns ABC, calling Valerie Jarrett, whom Barr targeted in a tweet on Monday, to "let her know that ABC does not tolerate comments like those" made by Barr.
Now, Trump isn't angry that Iger called Jarrett. Rather, he is angry that Iger called Jarrett, but didn't call him.
"Gee, he never called President Donald J. Trump to apologize for the HORRIBLE statements made and said about me on ABC," Trump wrote in his tweet on Wednesday. "Maybe I just didn't get the call?"
This all started back on Monday, May 28, when Barr went on a Twitter spree (well, if you want to get more accurate, Barr's been tweeting racist and conspiracy-laden things for years, but this particular moment was spurred by tweets on Monday) that included saying that Jarrett, who served as senior adviser to President Barack Obama, was a product of the Muslim Brotherhood and Planet of the Apes. Comparing black people to apes is a well-noted racist cliché. Following outrage, Barr apologized in a tweet "for making a bad joke about her politics and her looks."
That apology was not enough for ABC, who announced on Tuesday afternoon that the reboot of her show, Roseanne, which had begun airing this year, was canceled. In a statement, ABC Entertainment president Channing Dungey said, per CNN, "Roseanne's Twitter statement is abhorrent, repugnant and inconsistent with our values, and we have decided to cancel her show."
In an appearance on MSNBC on Tuesday evening, Jarrett said that Iger reached out to her to apologize, according to Mediaite. "He said that he had zero tolerance for that sort of racist, bigoted comment, and he wanted me to know before he made it public that he was canceling the show," Jarrett said.
So that's what Trump's angry about on Wednesday, although it's unclear exactly which "HORRIBLE statements made and said about me on ABC" the president was referring to.
Trump and Barr do, in fact, have a storied history. The reboot of Barr's show, which originally ran in the late 1980s and into the '90s, got conversations going. This was in part due to Barr's offscreen persona, where she has said some questionable things about people who are not white, and in part due to her onscreen persona, where she portrayed a working class woman who supported Donald Trump.
Trump, in turn, appeared to support Barr supporting him (onscreen and off). In March, after the first episode in the reboot of the show aired, Trump reportedly called Barr, telling her "he is just so happy for [her]," Barr told ABC's Good Morning America. "I have known him for many years and he has done a lot of nice things for me over the years, and it was just a friendly conversation about work and television and ratings."
Now, however, it appears that Trump is more concerned with his own wellbeing than with Barr's (after all, he doesn't like losers, and losing your own show for publicly saying a blatantly racist thing about a White House alum is pretty loserly), and with the show off the air, there are no more ratings to speak of.
As Jarrett said on MSNBC on Tuesday night, the best you can hope for is that this becomes "a teaching moment" about "those ordinary examples of racism that happen every single day." If only the president would get the message.