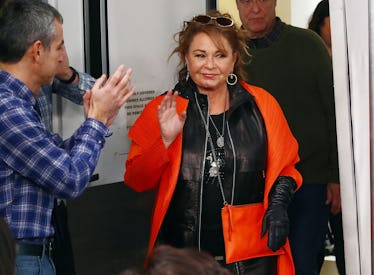 ABC Canceled Roseanne Barr's Show After This Tweet About An Ex-Obama Aide
Astrid Stawiarz/Getty Images Entertainment/Getty Images
On Tuesday, May 29, Roseanne Barr apologized to her followers on Twitter. The 65-year-old comedienne and actress — and star of a recently rebooted hit comedy — said she'd made a "bad joke" about an aide of former President Barack Obama. But Roseanne Barr's tweets about Valerie Jarrett, the aide who worked in Obama's White House, was notable for more than just being a "bad joke" — it was one that resulted in her losing her job.
On Tuesday afternoon, ABC decided to cancel Roseanne, the network's president announced, according to the Associated Press. "Roseanne's Twitter statement is abhorrent, repugnant, and inconsistent with our values, and we have decided to cancel her show," the network said in a statement, per CNN.
Earlier in the day, while responding to an article peddling a conspiracy about the Obama White House, Barr referred to Jarrett as the product of the "Muslim Brotherhood and Planet of the Apes," if they had a child.
She later tweeted an apology, saying, "I apologize to Valerie Jarrett and to all Americans. I am truly sorry for making a bad joke about her politics and her looks. I should have known better. Forgive me — my joke was in bad taste."
Barr's tweet about Jarrett — who served as a senior adviser to President Obama — drew criticism for being racist, and for obvious reasons. While admittedly commenting on the Jarett's looks, she implicitly compared a black woman to an ape, a comparison that amounts to one of the more clichéd racist comments that have been used to describe black people. In December of 2016, for instance, a public employee in West Virginia was suspended from her job for six weeks after calling former first lady Michelle Obama an "ape in heels."
Barr's consequence, on the other hand, is far more steep: Her show will no longer broadcast on the coveted airwaves of network television.
Barr first debuted as the star of her eponymous show, Roseanne, in 1988. Over a period of nine seasons, the show's original run racked up dozens of high profile awards, which included Barr herself winning best actress in a television series at the Golden Globes for four straight years.
In March, ABC aired a reboot of the series, a decision that prompted skepticism among TV critics about whether Barr, a vocal supporter of President Donald Trump, could succeed in a different era. The season premier of the show's reboot, which focused political feud within Roseanne's family, would go on to attract 18 million viewers.
As her show produced noteworthy ratings, Barr's comments drew scrutiny on Twitter, where the actress is known to share conspiracy theories. For example, on Monday night, Barr tweeted that "Soros," in reference to liberal businessman and philanthropist George Soros, who is at the center of many conspiracy theories from the right, was Chelsea Clinton's middle name. Clinton calmly corrected her, saying her middle name is, in fact, Victoria, and on Tuesday morning, Barr replied, "Sorry to have tweeted incorrect info about you!I Please forgive me! By the way, George Soros is a nazi who turned in his fellow Jews 2 be murdered in German concentration camps & stole their wealth — were you aware of that? But, we all make mistakes, right Chelsea?"
Barr's tweet about Jarrett, in particular, not only prompted a rebuke from the network that carries her show, but also from colleagues involved in making the show.
Actress Sara Gilbert, who played Barr's daughter in the original series and the remake, tweeted, "This is incredibly sad and difficult for all of us, as we've created a show that we believe in, are proud of, and that audiences love— one that is separate and apart from the opinions and words of one cast member."
Meanwhile, Wanda Sykes, the black actress and comic who worked as a producer for the show, tweeted that she would not be returning to work for it.
Afterwards came the death knell, with ABC announcing that Roseanne's show would be cancelled as a result of her racist tweet.