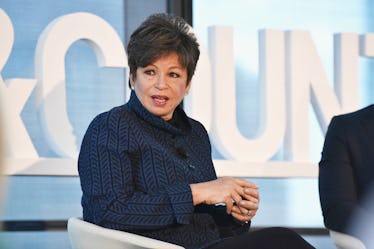 Valerie Jarrett Responded To Roseanne Barr's Tweet About Her & It's So Thoughtful
Bryan Bedder/Getty Images Entertainment/Getty Images
Well, it's official. ABC cancelled its show Roseanne — the one that made headlines for the main character's unabashed support of President Donald Trump — after the lead actress, Roseanne Barr posted a tweet about a former Obama adviser which was criticized as being racist on Tuesday, May 29. But it's not all bad. On the same day as the initial tweet, the target of Barr's attack, Valerie Jarrett, responded to Roseanne Barr, and what she said was actually very thoughtful.
Instead of offering a salty clapback, Jarrett took the high road. During an MSNBC town hall about everyday racism in America which aired Tuesday night, Jarrett said that the situation should be taken as a "teaching moment," and used to highlight the small instances of racism in America. She went on to shift the focus from her to those who don't have the support she does.
She said:
I think we have to turn it into a teaching moment. I'm fine. I'm worried about all the people out there who don't have a circle of friends and followers who come right to their defense.
The person who is walking down the street minding their own business and they see somebody cling to their purse or want to cross the street; or every black parent I know who has a boy who has to sit down and have a conversation, 'the talk,' as we call it. As you say, those ordinary examples of racism that happen every single day.
There are a lot of ways that could have gone — but the graciousness and thought for others is a pretty good one.
The events leading up to Jarrett's comments happened in a shockingly short window of time. On the morning of May 29, Barr posted a tweet that compared Jarrett, a black woman, to being a child of the Muslim Brotherhood and Planet of the Apes — a comparison which played on a racist, age-old trope comparing people who are black with monkeys. Naturally, the backlash was swift, with people calling Barr out. She later tweeted an apology, chalking it up to a "bad joke."
"I apologize to Valerie Jarrett and to all Americans. I am truly sorry for making a bad joke about her politics and her looks. I should have known better," she said in the tweet.
But the apology was not enough to save her show. By that afternoon, ABC announced it was cancelling the rebooted show. "Roseanne's Twitter statement is abhorrent, repugnant, and inconsistent with our values, and we have decided to cancel her show," the network said in a statement, according to CNN.
That means Roseanne only made it a few months. The reboot first aired in March, and it made lots of headlines because of the decision to make Barr's character a Trump supporter — just like Barr. In fact, the show drew in 18.2 million viewers on the night it premiered, according to CNN, the second-highest viewed scripted show for the season. The first was an episode of This is Us that aired after the Super Bowl and likely benefited from the game, per CNN. In short: lots of people were initially interested in Roseanne, which makes the move to cancel it all the more shocking. As The New York Times notes, the show's success put it on track to collect more than $60 million in ad revenue for its second season.
But if that interest wasn't gone already, it is now. Responses have come from all sides condemning Barr's remarks, including Fox News' Shephard Smith who plainly called the comments racist and "not funny." Comedian Wanda Sykes tweeted almost immediately that she would not be returning to the show, and Barr's agency said they were dropping her, according to Vox.
Jarrett, on the other hand, didn't openly condemn the comments. Instead, her response made the best of a bad situation, to say the least. She used Barr's decision to publicly attack her as an opportunity to talk about other forms of racism that often escape the public eye. It's much easier to rally around a specific story of a celebrity being discriminated against than it is to listen and learn about discrimination that happens far more often. But both headline-making and "ordinary" instances of racism need to be addressed. It's just too bad it took an outrage like this to get us talking.