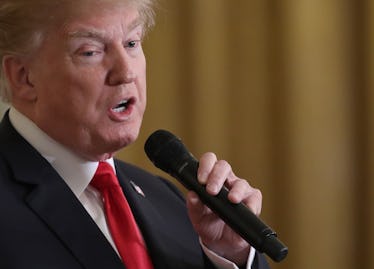 Donald Trump's Women's History Month Statement Has Me Rolling My Eyes So Hard
Win McNamee/Getty Images News/Getty Images
March 1 marks the official beginning of Women's History Month, a time that's meant to not only showcase, but also empower, the voices of strong women from all across the world. Despite all the buzz surrounding movements such as #MeToo and Time's Up, there's clearly still a lot of work to be done in order to achieve gender equality. And now, Donald Trump's statement for Women's History Month might have been well intentioned, but it's so ironic it actually hurts.
On Mar. 1, the White House released a statement recognizing March as Women's History Month. The statement begins by recognizing the strong women who have helped build America, referencing both leadership and innovation.
All of that is true, of course. However, there's one particular paragraph in the statement that caused me to raise my eyebrows. At the end of the release, Trump claims that he and his administration will "support" women and help ensure access to equal opportunities.
He wrote,
Through these and other efforts, we will support women throughout our society, recognizing that the successes of women strengthen our families, our economy, and our Nation. As we reflect on the role of women throughout American history, we remember that women must always have access to all the opportunities that our Nation has to offer. Indeed, ensuring access to these opportunities is vital to our Nation's prosperity.
Suspect.
While it's pretty standard for presidents to proclaim March as Women's History Month, this presidential proclamation is definitely more controversial than others. It's no secret that Trump has a track record of not necessarily catering to women's issues, whether it's dealing with the wage gap, issues of reproductive health, or handling sexual assault awareness.
On Feb. 9, New York Senator Kristen Gillibrand shared a 14-tweet thread on Twitter about how the Trump administration is impacting women. In the thread, she addresses Trump's lack of action towards paid family leave, restricting women's access to birth control, his defense of alleged domestic abuser Rob Porter, and other related topics. The whole thread is worth a read.
To boot, Trump's alleged history of sexual assault makes his Women's History Month statement that much more icky.
Multiple women have stepped forward to accuse the current president of sexual misconduct. As of a Dec. 12, 2017 report by Huffington Post, a total of 21 women have came forward with allegations spanning from the early 1980's to as recent as 2013.
Trump has continuously denied all of these allegations, citing them as "fake news." During a press briefing on Oct. 28, 2017, Press Secretary Sarah Huckabee Sanders suggested that all of Trump's accusers were liars in an extremely curt and non-helpful response.
And of course, there's also the infamous Access Hollywood tape. On Oct. 8, 2016 when The Washington Post released an audio recording of Donald Trump bragging to a companion that someone who has fame can "do anything," including "grab her by the pussy."
Despite literal proof of the misogynistic comments, Trump brushed them off as "locker room talk."
"This was locker room banter, a private conversation that took place many years ago," Trump said in a statement. Trump eventually apologized for the comments.
First Lady Melania Trump and first daughter Ivanka Trump also spoke about the beginning of Women's History Month via Twitter.
All right. Thanks, ladies.
So while we may sit back and mock, let's not ignore how important Women's History Month is for not only this nation, but the entire world. It began in 1981, originally known as "Women's History Week," but in 1987 the timeline was changed to Women's History Month. Since, this tradition has established itself as a time that allows us to showcase empowering and innovative women whose voices and contributions may have been overshadowed by their male counterparts.
Want to know how you can join the fight? Check out all these amazing organizations dedicated to supporting women, including protecting women's health, speaking out against gender discrimination, and others that are equally badass.
Girl power, baby.