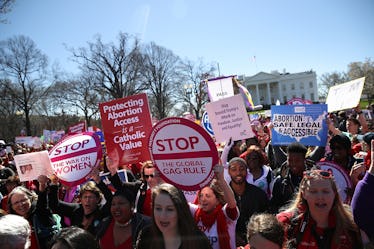 The Trump Admin Isn't Telling You Everything About How It's Impacting Women's Health
Justin Sullivan/Getty Images News/Getty Images
On Feb. 6, the State Department of the Trump administration released a six-month review of the "Mexico City Policy," which is more commonly known as the Global Gag Rule. That rule impacts funding for non-governmental organizations (NGOs) based on their work with abortion services, whether through provision, consultation, or public discourse. Two weeks later, on Feb. 21, Politico reported that the State Department is editing language on women's reproductive rights in their annual report on global human rights. Between these two reports, it's become increasingly clear that the Trump administration's language on women's health is leaving out vital information, at best, and misleading at worst.
According to Politico, officials from the State Department were told to take out information about both women's health and discrimination (based on race, ethnicity, and sexuality) from an annual report on human rights around the world. In terms of women's health specifically, the officials were told to edit out information about reproductive rights, including views on family planning and access to contraceptives and abortion.
A State Department spokesperson tells Elite Daily that they are following the Foreign Assistance Act of 1961's requirement to report on coercive family planning practices (like coerced abortion and involuntary sterilization). The spokesperson claims that the report still includes issues required by the law, although it may not be listed under the title of "reproductive rights," which was used during the Obama administration. They say that information about maternal mortality, contraception, and similar issues is also available from the United Nations.
"Failing to call out human rights violations because they pertain to reproductive rights is a disgrace," Nancy Northup, president and CEO of the Center for Reproductive Rights said in a statement about the Politico report. "Obscuring and censoring mentions of discrimination against women sends the signal that the U.S. tacitly condones marginalization of women and girls around the world."
Northup was joined in her outrage by many other supporters of women's rights, including former Secretary of State Hillary Clinton. On Feb. 22, Clinton tweeted the Politico report, with a reference to her famous 1995 speech in Beijing on women. "Women's rights are human rights," Clinton tweeted. "That was a radical idea back in 1995. It shouldn't still be two decades later."
Donald Trump reinstated the Global Gag Rule in one of his first actions as president in January 2017. The rule essentially says that if an NGO wants to get funding from the U.S., they have to agree to not provide abortions, refer patients to safe abortion providers, or consult on abortions. Trump's version of the rule ("Protecting Life in Global Health Assistance," or PLGHA), which is regularly implemented by Republican presidents and repealed by Democratic presidents, was expanded to apply to more funding. Secretary of State Rex Tillerson approved the plan for the rule in May 2017, and the six-month review came out in early February 2018.
To its credit, the State Department's six-month review of the Global Gag Rule is at least transparent that "with less than six months of policy implementation, it is too early to assess the full range of benefits and challenges of the PLGHA policy for global health assistance." However, the information that is included in the review does not paint an accurate picture of the effects of the rule, according to women's health experts.
According to the State Department review, only four prime recipients and 12 sub-prime recipients of funding have rejected the rule while 733 awards have been given. However, Rebecca Brown, Director of Global Advocacy at the Center for Reproductive Rights, tells me in an interview for Elite Daily that most prime recipients are U.S.-based organizations, which are not required to sign the Global Gag Rule, which applies to non-U.S. NGOs. Meanwhile, there are over 500 prime recipients who did not have to make a decision about the rule in the time period that the review covered. "It's unclear about how they're capturing this data and what data they're choosing to represent," Brown says.
"This incomplete review tells a misleading story that President Trump wants the public to hear. The truth is that the effects of the global gag rule will be far reaching and deadly," Latanya Mapp Frett, Executive Director of Planned Parenthood Global, said in a statement. NGOs have already reported the devastating effects funding cuts have had on their ability to provide care to women and families in impoverished areas. That impact goes beyond abortion care — without funding, NGOs can't provide general reproductive services, cancer screenings, HIV treatment, and more.
And the impact, Brown tells me, goes even beyond funding and care. As the review notes, many organizations are uncertain about the limits of the rule and how they have to act in order to still get funding. That has led to "an over-interpretation of what the rule requires," Brown says.
"This chilling effect is not something that's easily measured," Brown says. She has seen coalitions and trust between groups working to improve overall women's health break down as organizations fear losing funding for so much as discussing abortion — which is especially true because of the lack of understanding about the limits of the rule. Brown says that because of that lack of clarity, "organizations have decided to cancel meetings that they were either holding or going to attend," and have withdrawn from work on broader issues like maternal health over a concern that abortion will come up in conversations.
The six-month review did note that there was confusion about how the rule works, and the State Department noted that clarifications should be made. However, that clarification won't stop the massive impact of the rule itself. "The U.S., through this policy, is turning its back on the rights of women and girls," Brown says.
The Global Gag Rule is an attempt to stop abortions from happening. But, Brown says, "it only makes the procedure less safe. The rule is undermining [women's] rights to life, to health, to information." So far, the information that Trump's State Department is putting out about the state of women's health across the world is not reflecting their own damaging impact.