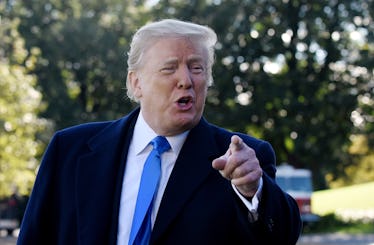 Donald Trump Just Called Stormy Daniels "Horseface," So That's Where We're At
Pool/Getty Images News/Getty Images
It's not exactly a secret that President Donald Trump has a history of saying mean and disrespectful things about women. From body-shaming women like Rosie O'Donnell and Kim Kardashian and bragging about groping others, you would think he couldn't say anything more offensive and insulting — but he just did. After a judge dismissed a defamation lawsuit from his alleged mistress Stormy Daniels, the president took to Twitter to attack Daniels, and Donald Trump's response to Stormy Daniels' lawsuit being dismissed is a serious low blow. Elite Daily reached out to the White House and to representatives of Daniels for comment on the tweet, but did not hear back by the time of publication.
Trump's tweet came a day after a federal judge threw out Daniels' defamation lawsuit against him and ordered her to repay Trump's legal fees. Daniels had sued Trump for allegedly calling her a liar in an April 2018 tweet, in which he called her claims she had been threatened over her allegations of an affair a "con job." Elite Daily reached out to the White House for comment on the lawsuit at the time but did not hear back. On Oct. 15, District Judge S. James Otero ruled against Daniels, finding that the tweet constituted "'rhetorical hyperbole' normally associated with politics," and that the First Amendment covered such speech. Responding to the news, Trump shared a tweet on Oct. 16 in which he called Daniels (whose name he misspelled) "Horseface" and threatened to "go after" her and her lawyer, Michael Avenatti. He tweeted:
'Federal Judge throws out Stormy Danials lawsuit versus Trump. Trump is entitled to full legal fees.' @FoxNews Great, now I can go after Horseface and her 3rd rate lawyer in the Great State of Texas. She will confirm the letter she signed! She knows nothing about me, a total con!
Avenatti and Daniels quickly fired back at Trump, with the lawyer pointing out that a separate lawsuit over hush money Daniels was paid to allegedly keep quiet about an alleged affair with Trump is still unsettled. The president's disgraced former attorney Michael Cohen admitted to making the payment to Daniels ahead of the 2016 presidential election. Though Trump has vehemently denied the affair, he admitted to reimbursing Cohen for the payment.
Daniels hit back at Trump by calling out his repeated demonstrations of "incompetence, hatred of women and lack of self control on Twitter." She also branded him as "Tiny," referencing some, err, startling claims she made about the president in her newly-released book Full Disclosure. The White House did not respond to Elite Daily's request for comment on her claims.
Pete Souza, President Barack Obama's White House photographer and a frequent critic of Trump's, tossed an indirect jab at the president with a picture of his predecessor riding a horse, along with a slyly sarcastic comment.
And the criticism just kept rolling in from there.
Trump met similar backlash back in August after he called his former aide Omarosa Manigault Newman a "dog" on Twitter. At the time, he had been repeatedly calling out Manigault over claims she made about him in her then-upcoming book Unhinged, including that there are tapes of him using the N-word and that he's in a state of mental deterioration. The White House did not respond to Elite Daily's requests for comment on Manigault's claims.
People quickly tore into Trump for the aggressive comment.
Souza also swept to Manigault's defense, sharing a photo of Obama and his Portuguese water dog Bo, along with the caption, "A real dog waiting for a real President."
Even some of his supporters tried to urge him to chill on the tweets.
Sadly, her plea didn't work. But hopefully, this backlash does. Eh, who am I kidding?