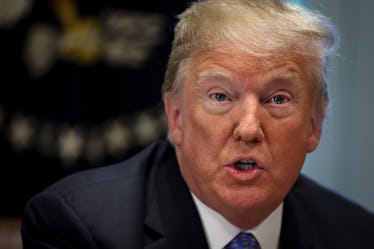 Obama's Ex-Photographer Slammed Trump For Calling Omarosa A "Dog" In The Best Way
Pool/Getty Images News/Getty Images
President Donald Trump received widespread condemnation on Tuesday, Aug. 14, after he called former aide Omarosa Manigault Newman a "dog" on Twitter. The two have been entangled in some serious drama following the release of Manigault's new tell-all book, Unhinged, in which she makes a number of accusations about the president and his administration, including that there are tapes of Trump using the N-word and that he's in a state of mental deterioration. Since the book's debut, Trump hasn't let up on his attacks on his former aide, which is why even some of the most unlikely figures are speaking out against him for his latest comment — one person being Pete Souza, President Barack Obama's White House photographer. TBH, Pete Souza slammed Trump so hard over the Omarosa drama that I'm over here regretting the comment and I'm not even the one who uttered it.
Souza — who is famous for shading Trump and his administration — took a swipe at the president by sharing a photo of Obama and his Portuguese water dog, Bo, hanging together in the White House, per The Hill. The photographer captioned the image, "A real dog waiting for a real President."
Boom! And there you have it, folks: I just became a fan of Pete Souza.
His jab at Trump came just hours after the commander-in-chief blasted Manigault on Twitter for her explosive claims against him.
"When you give a crazed, crying lowlife a break, and give her a job at the White House, I guess it just didn't work out. Good work by General Kelly for quickly firing that dog!" Trump wrote, referring to White House Chief of Staff John Kelly.
The derogatory words didn't appear to phase Manigault that much either, as she told MSNBC the same day that they simply show the kind of person Trump actually is. According to The Hollywood Reporter, she explained:
I think that it just shows you that if he would say that publicly, what else would he say about me privately? He has absolutely no respect for women, for African-Americans, as evidence by him instructing the Chief of Staff to lock me for two hours in the Situation Room, to harass me, to threaten me and say that things could get very ugly for me and that there would be damage my reputation.
"He is unfit to be in this office and to serve as the president of the United States," Manigault added.
It's good to see her dodging his remarks with such apparent ease, because Trump has really been digging at her. On Aug. 13, he also launched a war of words at Manigault over claims that she'd secretly recorded their conversations, writing in a series of tweets that she "never made it, never will," and that she was a "nasty" person.
At least, it probably helps a lot when she has all these people coming to her defense and criticizing Trump for his offensive comments — especially Souza and his all-too-perfect clapback.