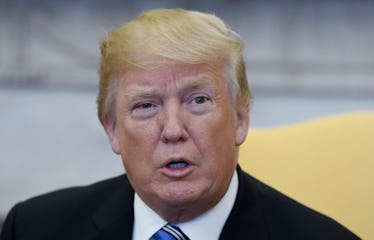 Donald Trump Is Slapping The Presidential Seal On His Golf Swag & It's A Problem
Pool/Getty Images News/Getty Images
President Donald Trump really enjoys seeing his name on things, like written in giant golden letters on luxury buildings. Now that he's the president, though, Trump has decided it's time to trade in the Trump branding for something a little more elite. On March 5, ProPublica reported that Donald Trump's using the presidential seal on his golf swag, and there's kind of a problem with that.
The Trump Organization, the giant international holding company responsible for all of Trump's business ventures now being run by sons Eric Trump and Donald Trump Jr., reportedly ordered new tee markers for Trump International golf courses with the presidential seal on them, according to ProPublica. (If you are like me and don't know anything about golf, tee markers let the golfer know where to take his swing.) The problem is, it might be illegal. Under federal law, the seal is only supposed to be used for official government business. Offenders can face criminal charges and up to six months in prison.
Using the presidential seal for anything but official government business is a law that has been strictly adhered to. During the Bush administration, satirical news site The Onion used to put out a parody of George W. Bush's radio address where they had a picture of the former president and the official seal. In 2005 the Bush administration ordered The Onion to remove the replica of the seal, according to The New York Times.
In a letter to The Onion, associate White House council Grant M. Dixton wrote that the official insignia "is not to be used in connection with commercial ventures or products in any way that suggests presidential support or endorsement." Which, uh, would be exactly what the Trump Organization is doing, what with using it as tee markers at a private golf club.
White House did not immediately respond to Elite Daily's request for comment on reports that Trump golf courses will feature the presidential seal.
The seal tee markers were reportedly made by the Eagle Sign and Design company, whose Facebook page had an album of the designs titled "Presidential Seal" with caption, "Trump International Golf Course," reported ProPublica. The photos appear to have since been removed. A representative for the company told ProPublica that they had made the design, which had been confirmed by a client, but declined to say who that client was.
This report brings to light ethical worries that have followed Trump through his campaign and presidency.
Traditionally, when presidents take office they divest themselves from all their business assets, so as to avoid the appearance of conflicts of interest. Trump, however, entered the political arena with holdings in various business ventures and a wealthy brand. Though he resigned his post as president of the Trump Organization, he didn't sell his ownership stake and instead allowed his sons to run the business, according to CNN Money, meaning that he will likely still benefit from the company's success. Having money in business holdings around the world could influence a president's decisions on foreign policy and trade agreement or make him favor his personal profits over the good of the country. Critics also say that the president's international financial entanglements violate the Emoluments Clause in the constitution, which prohibits the president from accepting financial gifts from foreign entities, as some think that profits from international businesses which could receive favorable treatment from foreign officials falls under that umbrella.
Even with Trump no longer running his company, it's definitely possible that the Trump Organization could exploit the office of the president for their personal gain.
This isn't the first time that Trump has been called out for apparently profiting off the presidency.
In January, a report by Public Citizen, a liberal-leaning watchdog group, showed "politicians, interest groups, corporations and entities affiliated with foreign governments" spent hundreds of thousands of dollars at properties affiliated with the Trump brand, according to The Wall Street Journal.
On the list was a company tied to the Kingdom of Saudi Arabia who managed to spend $270,000 at Trump's Washington D.C. hotel during a trip lobbying to overturn a law allowing victims of terrorism to sue foreign governments. That's just one example. But you see how it can cause an ethical problem if foreign governments are conducting politics during the day and then tucking themselves under some (very expensive) Trump blankets at night.
Although, I guess since Trump has spent 100 days on the golf course, he could make the argument that golf is actually official government business — and therefore he's not in violation of the law at all. Hey, he's said wilder things.
Though it's illegal to use the seal for commercial benefit, past presidents have, on occasion, used versions of the seal for personal use.
Both George W. Bush and Barack Obama had custom golf balls with the insignia on them, and there have even been some jelly beans emblazoned with the presidential seal, according to ProPublica.
Though both uses of the seal are not for government use, there is a difference. Richard Painter, vice chairman of Citizens for Responsibility and Ethics in Washington, told ProPublica that the Trump issue is different because it's a private company using the seal for commercial purposes. It's not just Obama slinging some golf balls with the official seal through the Oval Office.
Many people were not happy about the Trump tee markers.
I don't know what the Trump Organization is thinking, but the whole thing looks fishy at best.