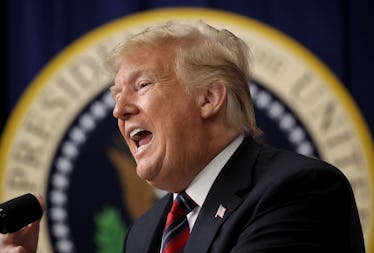 Trump Lashed Out At The Media Over His Pittsburgh Visit, Because Of Course
Win McNamee/Getty Images News/Getty Images
On Tuesday, Oct. 30, President Donald Trump visited Pittsburgh, Pennsylvania to pay his respects to 11 people who were killed there in a mass shooting on Oct. 27. When he arrived, he was reportedly greeted by hundreds of protesters, which, naturally, received media coverage. But the president still hit back with angry criticism. Seriously, Donald Trump's comments on his Pittsburgh visit tear into the media.
Attempting to dismiss the "Fake News stories," Trump shared a video to his Twitter on Oct. 31 of his visit to Pittsburgh. He wrote that he was treated "very nicely" and that he didn't see the protest at all during his visit (which looks like a legit claim from the video). Then he threw out a zinger, writing that the media coverage of his visit was the opposite of the treatment he received: "Disgraceful!" He wrote:
Melania and I were treated very nicely yesterday in Pittsburgh. The Office of the President was shown great respect on a very sad & solemn day. We were treated so warmly. Small protest was not seen by us, staged far away. The Fake News stories were just the opposite-Disgraceful!
Elite Daily reached out to the White House for further comment on Trump's tweet, but did not hear back by the time of publication.
Nonetheless, the protests still actually happened, despite Trump's attempts to minimize them. They came after a group of Jewish leaders in the Pittsburgh community wrote an open letter to Trump saying he is not welcome in the city until he denounces white nationalism. The letter also seemingly blamed his fiery rhetoric for inciting violence and urged him to reconsider his words. Elite Daily reached out to the White House for comment on the letter and the suggestions that Trump's rhetoric has influenced acts of potential violence, but did not receive a reply. As of Tuesday, there were more than 77,000 people who signed the letter saying Trump was not welcome in Pittsburgh, per The Hill.
When news broke that he intended to visit anyway, around 200 protesters, organized by Jewish group IfNotNow, showed up the next day to protest. They reportedly held signs reading "anti-Semitism upholds white supremacy," "your words have consequences" and more.
Trump has also received widespread criticism for his reaction to the shooting. In a response to reporters on Oct. 27, he suggested that the shooting wouldn't have happened if there was an armed guard onsite. The White House did not return Elite Daily's request for comment on the president's suggestion. Many people interpreted the comment as him blaming the members of the synagogue and the victims for the tragedy.
He later offered up a more serious response on Twitter, writing that the shooting was an "assault on humanity" and calling anti-Semitism "poison." According to The New York Times, however, the condemnation came only at the behest of his daughter Ivanka Trump and son-in-law Jared Kushner, which prompted even further backlash. Elite Daily reached out to the White House for further comment on the report, but did not receive a reply.
And unfortunately, his latest comments are only focusing on him, rather than the victims who are still being buried and their grieving families. Perhaps it would be better to keep the attention where it belongs, even if it is only thoughts and prayers.