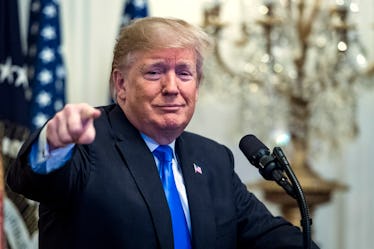 Trump Responded To The Pittsburgh Synagogue Shooting In The Most Typical Way
Pete Marovich/Getty Images News/Getty Images
The deadly shooting that occurred on Saturday, Oct. 27 near the Tree of Life synagogue in Pittsburgh, Pennsylvania is far from the first one this year. President Donald Trump often addresses them in similar fashion. This time doesn't look any different, either. Seriously, Donald Trump's response to the Pittsburgh synagogue shooting is basically the same one he usually gives after deadly gun violence.
Shortly after the news of the shooting surfaced, Trump offered a response to reporters while on his way to a rally, telling them the shooting — which reportedly resulted in at least eight deaths and multiple injuries — might've had a different outcome if an armed guard had been present. "If there was an armed guard inside the temple, they would have been able to stop him," Trump said, per CNN. He also brushed off questions on whether now was the time to reexamine gun laws, telling reporters that the shooting " has little to do with [that]." Elite Daily reached out to the White House for further comment on President Trump's remarks, but did not hear back at the time of publication.
Of course, some Twitter users had a lot to say about that.
Oof.
Instead of revisiting gun laws, Trump said there should be stricter laws surrounding the death penalty. "When people do this, they should get the death penalty," he said. "Anybody that does a thing like this to innocent people that are in temple or in church ... they should be suffering the ultimate price, they should pay the ultimate price." Elite Daily reached out to the White House for clarification of President Trump's remarks, but did not hear back at the time of publication.
He also offered up a tepid response to the tragedy on Twitter, writing, "People in Squirrel Hill area should remain sheltered. Looks like multiple fatalities. Beware of active shooter. God Bless All!"
In case that looks familiar, that's because it is. Trump offered a similar response to a shooting at a Santa Fe high school back in May. He tweeted, "School shooting in Texas. Early reports not looking good. God bless all!" While the comments might be appropriately sensitive to the circumstances on the surface, they also highlight a bigger issue: Trump's continuous inaction on gun control following mass shootings.
In the wake of multiple mass shootings this year, Democratic lawmakers, and activists have called for expanded background checks, tighter gun laws for people with mental illness, and new legislation to raise the age limit from 18 to 21 to purchase a gun. Trump once seemed on board with the calls, particularly after the Feb. 14 Parkland shooting, which resulted in the deaths of 17 students and staff members. Per NBC News, he said his administration would do "everything in [its] power" to protect students and keep weapons away from dangerous individuals. Later, he announced measures to curb gun violence including strengthening background checks, reopening mental institutions, arming teachers, raising the age limit for certain gun purchases and more. However, within a month, he backtracked on his support of gun reform. In May, he even went as far to claim gun rights are given by God.
Obviously, his feelings on the subject haven't seemed to change in the present day, and maybe they won't. In the meantime, here's wishing a speedy recovery to those injured in the synagogue shooting and condolences to those who lost their loved ones.