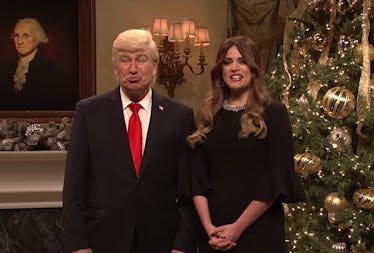 Donald Trump Has A Christmas Message On 'SNL' & It'll Make You Relive A Wild 2017
'Tis the season to reflect... and the president certainly has an interesting way of looking back at 2017. Donald Trump's Christmas message on SNL focuses on the "haters" and "losers," and it's definitely a unique take on his first year in office. It goes without saying, but brace yourself for one heck of a journey.
Our commander in chief (played by Alec Baldwin) kicks things off by declaring the War on Christmas over... which he claims will soon be replaced by the War with North Korea (Happy Holidays?). He gets fired up by talking about American coal, his fantastic year in the White House — which, undoubtedly was the greatest year in all of mankind, according to the man himself — and his amazing tax cut that'll catapult him into superstardom: billionaire status. Phew! Lots of greatness unfolding here, wouldn't you say?
While listing his many achievements, Trump of course gets heated (and even a little inappropriate), so Melania (Cecily Strong) decides to focus his attention on decorating the tree. Stars, angles, and festive figurines are replaced with photos of disgraced reps from the president's administration, thus turning the First Family's Douglas Fir into "The Tree of Shame." The so-called haters and losers are the people the president "destroyed" in 2017, so of course it's a doozy.
But the prez couldn't tackle holiday decorating alone, so Kellyanne Conway (Kate McKinnon) helps kick things off on the right foot. She brings an ornament featuring FBI director James Comey. Sarah Huckabee Sanders (Aidy Bryant) joins and proves the third time's a charm, as she presents ornaments featuring Sean Spicer and Anthony Scaramucci, whose "mangled corpses" she had to step on to get her coveted position.
Hang on folks, the fun is just beginning.
Could decorating for such a special occasion really happen without Trump's family? Of course not, so his favorite child Ivanka (played by Scarlett Johansson) joins the festivities, as did her brothers Donald Jr. (Mikey Day) and Eric (Alex Moffat), who calls himself Derek. Perhaps the best ornament wasn't one of the president's arch enemies, it was Eric/Derek's macaroni DIY. Talk about some serious creativity.
Although the president might've had his own take on 2017, one of SNL's skits on the Dec. 9 episode shows a very different outlook on Trump's first year in office. Saint Nick (a mall Santa played by Kennan Thompson) decides to ask a group of children what they have on their Christmas list, and it appears they are all in search of the same thing: answers. Most youngsters have a toy or game to request, but these curious little ones want to know if Roy Moore would be on the naughty list and why exactly NFL players take a knee during the National Anthem. The SNL mall Santa sketch shows the tumultuous events we experienced this year.
One little fella asks, "Can you tell me: What did Al Franken do?" while a little girl proudly states her major takeaway from the news: "I learned that if you admit you did something wrong, you get in trouble. But if you deny it, they let you keep your job." Santas other visitors decided to discuss the NFL situation, feminazis, and even Bitcoin. What an informed group of kiddos.
These sketches certainly feel like a whirlwind as viewers relive this bizarre year. It's a lot to take in, so grab some cocoa while you watch the prez decorate his tree of shame. Let's just hope that things aren't quite as eventful in 2018. Cheers to that.
Check out the entire Gen Why series and other videos on Facebook and the Bustle app across Apple TV, Roku, and Amazon Fire TV.