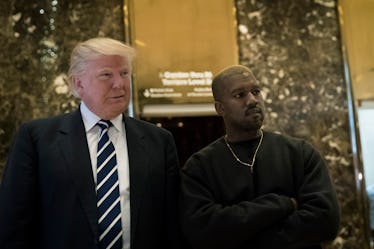 Kanye West Might Meet With Donald Trump For A Summit On Race & This Can't Be Good
Drew Angerer/Getty Images News/Getty Images
Does anyone understand what's going on in the world right now? I honestly can't keep up. Social media has gone completely ablaze since Kanye West announced his support and "brotherly love" for Donald Trump, but it looks like this bromance might be reaching a new level. According to reports, Donald Trump and Kanye West might meet for a summit together in the upcoming future to discuss race. Can 2018 please calm down for a minute?
Before you ask, no, I'm not joking. According to Politico, the White House is planning to organize a number of future summits bringing well known athletes and artists to meet with President Donald Trump to discuss race. Cleveland pastor Darrell Scott, one of Trump's most prominent black allies, is leading the charge and intends to welcome Kanye West as one of the summit participants, telling Politico that "of course" West would be invited. Representatives of Kanye West and the White House did not immediately respond to Elite Daily's request for comment.
Scott reportedly plans to meet with Trump at the White House to discuss the summit proposal on May 3. So far, no plans have been set in stone about the proposed summit, but Scott apparently has full confidence that Trump will be willing to participate.
"It's going to be unscripted, unfiltered, blunt," Scott told Politico. "No topic is off the table."
Even though nothing has been made official yet, the thought of this summit alone can't be a good idea. On April 25, West stirred controversy through a string of tweets expressing his support for Donald Trump and even went so far as to call him his "brother."
He tweeted,
You don't have to agree with trump but the mob can't make me not love him. We are both dragon energy. He is my brother. I love everyone. I don't agree with everything anyone does. That's what makes us individuals. And we have the right to independent thought.
Uh-huh. But wait, there's more. On May 1, West appeared TMZ Live with Harvey Levin to share his thoughts on a few topics, but it was the topic of slavery that completely broke all of us. In the video, the Yeezus artist said, "When you hear about slavery for 400 years. For 400 years?! That sounds like a choice." He continued, "Like, you was there for 400 years and it's all of y'all!?"
Naturally West's comments sparked immediate reaction among his audience. TMZ employee Van Lathan even called West out in real time, saying that he was "disappointed, appalled ... and unbelievably hurt" by West's comments. Clearly, he wasn't the only one.
Similar to 2018 Kanye, Donald Trump also has had a string of controversial remarks regarding rage over the past few months. On Jan. 11, Trump sat down with members of Congress at the White House to hammer out a bipartisan deal on immigration, but ended up digging himself a bigger hole when he allegedly referred to Haiti and African countries as "sh*tholes."
"Why are we having all these people from sh*thole countries come here?" Trump reportedly asked during the meeting.
Trump later denied using the word, saying via Twitter that "the language used by me at the DACA meeting was tough, but this was not the language used." On the other hand, Illinois Sen. Dick Durbin, who attended the immigration meeting, said that Trump definitely used those words.
This may be a classic "he said they said" case, but this isn't the only instance where Trump has ignited a nation over his controversial racial comments. Throughout this election campaign, Trump referred to immigrants in a negative light, including in the official announcement of his bid for president in 2015, Trump delivered a speech where he connected Mexican immigrants to criminals and rapists. He said,
When Mexico sends its people, they're not sending their best. They're not sending you. They're not sending you. They're sending people that have lots of problems, and they're bringing those problems with us. They're bringing drugs. They're bringing crime. They're rapists. And some, I assume, are good people.
Clearly, these two men have no business discussing race one on one. Let's hope there will be a third voice in the discussion if this summit actually becomes a reality.