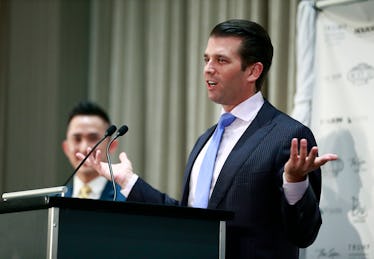 Donald Trump Jr. Tweeted About His Dad & The National Anthem, & It's Getting Roasted
Jeff Vinnick/Getty Images News/Getty Images
On Jan. 9, Donald Trump Jr. caught a wave of heat on Twitter and he didn't even open his mouth. It all started after the businessman uploaded a photo of his father standing for the national anthem. Now, Donald Trump Jr.'s tweet about his dad and the national anthem is being roasted by Twitter users and it doesn't look like they're letting up any time soon.
On Tuesday morning, Donald Trump Jr. took to his Twitter page to share a picture of his father standing for the song at the college football national championship game between the Alabama Crimson Tide and the Georgia Bulldogs on Jan. 8. The picture showed the president standing with his right hand across his heart in longstanding American tradition during the song, which is totally ironic considering Trump looked like he didn't know the words to the anthem in a separate video. But in an attempt to support his father, his tweet actually p*ssed a lot of people off for its lack of sensitivity and respect.
The controversial message read,
And that folks is how it's done. It's not that hard. Just show some respect for your country. #nodrama #maga #america #potus #georgia #alabama #football
Although Trump stood for the national anthem, Twitter users immediately trolled Trump Jr., highlighting how his father actually didn't show us "how it's done."
Trump Jr.'s tweet was immediately roasted by people on the social network.
Users denounced his entire tweet on the basis that Trump couldn't even remember the words to the anthem.
Personally, my response to Trump Jr.'s tweet is best described by this one:
And as @LiberalInFL put it,
Like, there's no way Trump Jr. could not have known his tweet was a horrible idea and would backfire on him. Why not just congratulate Alabama for winning their 12th championship in a row?
Other users felt Trump Jr. could at least give his dad some lessons on national anthem etiquette.
And another user completely threw Trump's prior criticisms of national anthem protests in his face.
Whew!
The whole thing is pretty ironic considering Trump's stance on the national anthem at football games. In 2016, beginning with Colin Kaepernick, NFL players from various teams started to kneel for the national anthem in a silent protest of racial inequality and police brutality.
On Sept. 22, 2017, President Trump fired back by openly criticizing players who choose not to stand for the anthem. Though the players stated they only refused to stand for the anthem in attempts to highlight racism, Trump felt it was unforgivably disrespectful. He said that if they didn't stand, they were a "son of a b*tch," and even implored NFL owners to fire their players who protested, despite the fact that the protests were peaceful, or what their purpose actually was.
And, unfortunately for President Trump, his comments drew widespread criticism and backfired, causing even more players to refuse to stand for the anthem. And now, thanks to the latest tweet from his son, the pair is catching even more flak for their comments on the tradition.
Throughout all of the controversy regarding the national anthem, Kaepernick has tried to make the purpose of the protests — to object violence against Blacks in America — clear, to little to no avail. On Aug. 26, 2016, he explained to NFL Media,
I am not going to stand up to show pride in a flag for a country that oppresses black people and people of color. To me, this is bigger than football and it would be selfish on my part to look the other way. There are bodies in the street and people getting paid leave and getting away with murder.
At the end of the day, perhaps Trump Jr. just doesn't understand how insensitive his tweet is in the wake of issues that continually plague Black Americans, but if he could just resist his Twitter finger, maybe the internet might be a better place. Or maybe the phrase "like father, like son" is harder to shake than we realize: Trump forgot the words to the anthem and Trump Jr. forgot how ruthless the internet is.