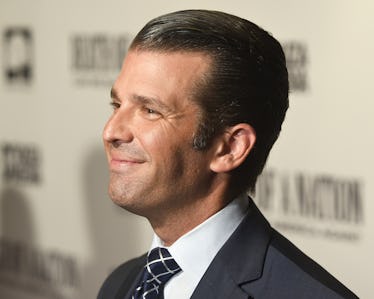 Donald Trump Jr. Shared This Ridiculous Meme Calling His Father An "Angel"
Shannon Finney/Getty Images Entertainment/Getty Images
With the holiday season upon us, it's the perfect time to start unleashing Christmas memes onto your social media timeline. Donald Trump Jr. obviously knows this, because he's already sharing festive content to his pages — like a Christmas-themed meme posted to his Instagram on Monday, Dec. 3. The post is all about family, paying tribute to his father, President Donald Trump — however, it's not going over all that well. Honestly, if you listen closely to the responses of Donald Trump Jr.'s Instagram calling his father an "angel," you can almost hear a record scratch.
The meme shows a Donald Trump figurine, dressed in a classic dark suit and red tie, hanging atop a Christmas tree in the traditional spot for a star or angel tree topper. The caption reads, "COULDN'T DECIDE BETWEEN AN ANGEL OR A STAR SO I PICKED BOTH." Along with the photo, Trump Jr. tacked on some hashtags to show just how much he stands by the post, adding #Christmas, #star and #angel, accompanied by a series of laughing emojis. As of writing, it's garnered more than 80,000 likes from his supporters, but some of the comments aren't that glowing.
"Couldn't decide between collusion and conspiracy. So [Robert] Mueller chose both," one critic wrote, referencing Mueller's probe into Russian meddling in the 2016 presidential election, while another person wrote, "Now that's a joke." Yeesh. Elite Daily reached out to representatives of Trump Jr. for comment on the post, but didn't immediately hear back.
Sadly, it's not the first time that something like this has resulted in holiday jeer for the Trump family. On Nov. 26, first lady Melania Trump unveiled this year's Christmas decorations at the White House under the theme "American Treasures," which received a sea of backlash. Although the theme is meant to "[honor] the unique heritage of America," according to a White House statement, some people weren't so impressed. One of the standout decorations is all-red trees lined up throughout the halls of the White House, which many Twitter users likened to something out of the 1980 horror The Shining, or The Handmaid's Tale.
Others labeled Trump's decorations a "dystopian nightmare" and called her out for using the slogan of her anti-bullying initiative #BeBest on the decor.
Trump later stood by her designs and noted that the decorations look better in person, though, so take that how you want.
But that's the not only case. Back in November, Eric Trump got snubbed on social media after trying to pitch some Trump Organization tree ornaments on Twitter. In his defense, they don't look that bad. The designs include a Trump helicopter, Trump properties and a golfing Santa Claus — and they're not totally expensive. (They range between $20 and $60, which is still fairly pricey.) But some people couldn't look past the many dramas of the Trump family to share their support of the products, and chose to take to the social media platform to call out the ornaments.
"If you shake the trump tower globe does it snow indictments?" wrote one person.
Another quipped, "Anything in handcuffs?"
I don't want to jump the gun here, but it seems like Christmas might not be their thing. Better luck on New Year's!