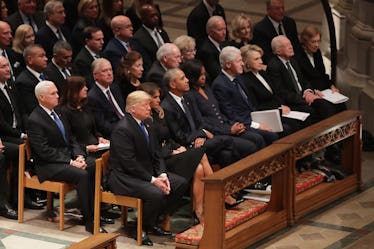 Donald Trump & Hillary Clinton Had A Tense Moment At George H.W. Bush's Funeral
Chip Somodevilla/Getty Images News/Getty Images
On Wednesday, Dec. 5, crowds gathered to attend the funeral of late president George H.W. Bush, who passed away at the age of 94 on Nov. 30. The guests included family members, close friends and associates, and fellow politicians. Among those politicians were President Barack Obama, President Bill Clinton, and President Trump, all of whom brought along their wives. But, as you'd probably expect, Donald Trump and Hillary Clinton had a seriously awkward moment as soon as the event started.
On Wednesday morning, the groups arrived to the National Cathedral in Washington D.C. to pay their respect to Bush, sitting together in the "president's row," which put the two 2016 rivals in close quarters. Upon their arrival, President Trump and his wife Melania greeted the Obamas with warm handshakes. While Melania followed up with a wave to Hillary Clinton (to which she received a slight nod in return), Trump took his seat, never making any contact with Clinton. She, on the other hand, didn't appear to acknowledge him either, instead looking forward the entire time. Oof. The facial expression that President Bill Clinton makes throughout the entire ordeal (or lack thereof) says it all:
Awkward. It's not exactly a secret that these two aren't fond of each other, from Trump's countless calls to have Clinton thrown in prison for her infamous email scandal ahead of the 2016 presidential election to her shady tweets about his presidential endeavors. But Trump has been uncharacteristically gracious in the wake of Bush's death, so you'd think their interaction wouldn't have been so icy.
After the news of Bush's death broke, Trump issued a sweet tribute in honor of the late commander-in-chief, despite their strained relationship, praising his leadership and his "essential authenticity, disarming wit, and unwavering commitment to faith, family, and country." He continued, "President Bush inspired generations of his fellow Americans to public service — to be, in his words, 'a thousand points of light' illuminating the greatness, hope, and opportunity of America to the world.'"
Trump went on to highlight pivotal moments in Bush's career, from his time in the U.S. military to his political efforts, adding:
President Bush always found a way to set the bar higher. As a young man, he captained the Yale baseball team, and then went on to serve as the youngest aviator in the United States Navy during the Second World War. Later in life, he rose to the pinnacle of American politics as a Congressman from Texas, envoy to China, Director of Central Intelligence, Vice President of eight years to President Ronald Reagan, and finally President of the United States.
He put all the drama he had with Bush's son, Jeb, during the 2016 presidential election and all the disparaging comments he made about George W. Bush's presidency to the side out of respect for an emotional time, is what I'm saying. But it looks like repairing the rivalry between Trump and Clinton is out of the question (at least, for now).
Anything is possible, though. Maybe these two can get on amicable terms one day.
That's a strong "maybe," BTW.