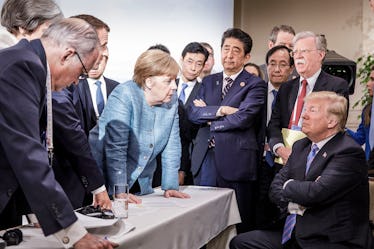 The White House Has Its Own Version Of That Meme'd G7 Photo, & I'm Rolling My Eyes
Handout/Getty Images News/Getty Images
I will never get over the memes of that viral photo showing German Chancellor Angela Merkel hovering intimidatingly over President Donald Trump while he sits (looking completely unbothered) during the 44th G7 summit on June 9. The image propelled an influx of conspiracy theories and jokes regarding Merkel's feelings about Trump, but he debunked the rumors on June 12, maintaining that he has a "really good" relationship with Merkel. Perhaps he could tell some people weren't buying it, though, because there's another, much more flattering version of Donald Trump and Angela Merkel's G7 photo floating around. I really can't take this, you guys.
The original photo was first shared by Merkel on her official Instagram account on July 9. In it, leaders of the most advanced nations in the world — including French President Emmanuel Macron, Japanese Prime Minister Shinzo Abe, and Merkel herself — were shown surrounding a seated Trump. Merkel and the commander-in-chief appear to be in a stand-off, with Merkel looming over Trump while he crosses his arms stubbornly. Clearly, it was destined to become a hit on social media. Some people poked fun at Trump's defiant posture and stern facial expression, while others joked about Merkel's apparent disbelief at his attitude.
But, surprise! It turns out the White House had its own version of the moment. On June 9, White House Director of Social Media Dan Scavino Jr. shared another angle of the viral photo, which showed the president in a much more flattering light, with many of the attendees smiling and zeroed in on whatever Trump's saying.
Yeahhh, doesn't make a difference to me. In fact, this honestly just makes me more suspicious that the two leaders actually were beefing with each other.
According to Fortune, the meeting was expected to be "ill-tempered" anyway, thanks to many of Trump's controversial actions since the last summit — including pulling out of the Iran nuclear deal and his withdrawal from the Paris climate agreement in 2017. Phew. Considering all that, Merkel's facial expression in the original photo does make a lot of sense.
Even so, during an interview with ABC News' George Stephanopoulos on June 12, Trump attempted to clarify the nature of the photo, claiming it wasn't indicative of his relationship with Merkel and other leaders in the room. He explained:
I have a very good relationship with [Japan] Prime Minister Abe. I have great relationship with the new man who I like a lot as you know from Italy [Prime Minister Giuseppe Conte] ... And frankly really good with Merkel. Really good pretty much with all of them. I was very surprised because we actually were getting ready to sign a document, I made them make various changes.
He continued:
She [Merkel] was looking at me, you know what we were doing? We were talking while we were waiting for the final copy of the document. That was, that was such an innocent picture.
But Merkel definitely doesn't seem to be too happy with him now, following his decision to back out of the G7 agreement. When speaking with German broadcaster ARD on Monday, June 11, she slammed Trump, saying his "withdrawal via Twitter is of course sobering and a little depressing."
Merkel added that she'd "tried hard to find a compromise and we fought hard for it ... this was an important announcement," according to CNN. But apparently, Trump just wasn't feeling it — especially because of his tensions with Canadian Prime Minister Justin Trudeau throughout the summit.
In a tweet posted to Trump's account on June 9, the president complained about Trudeau's "false statements," and Canada's "massive" tariffs on the United States before announcing that he'd instructed U.S. representatives at the summit not to endorse the final agreement. He wrote:
Based on Justin's false statements at his news conference, and the fact that Canada is charging massive Tariffs to our U.S. farmers, workers and companies, I have instructed our U.S. Reps not to endorse the Communique as we look at Tariffs on automobiles flooding the U.S. Market!
Ugh. Well, flattering picture or unflattering picture, there's not a photo angle that's going to polish up Trump's words. That's on him.