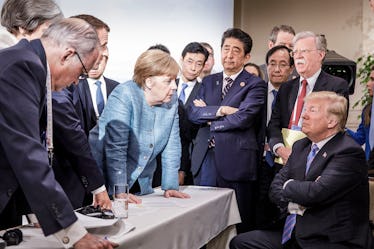 Angela Merkel Slammed Trump's Tweet About The G7 Agreement, & She Didn't Hold Back
Handout/Getty Images News/Getty Images
President Donald Trump is not that great at making friends, which probably isn't news to anyone. But recently, keeping United States allies close hasn't been his top priority either, and some foreign leaders aren't too happy about it. Angela Merkel's statement about Trump backing out of the G7 agreement is harsh.
After leaving the G7 summit in Quebec, Canada, Trump backed out of the agreement with a June 9 tweet. In his post, the president attacked Canadian Prime Minister Justin Trudeau, before announcing that the U.S. wouldn't endorse the agreement. Unsurprisingly, U.S. allies weren't pleased. On Monday, June 11, Merkel said that she is very unhappy with Trump's decision and even slammed Trump for making the announcement via social media. She told German broadcaster ARD that the president's "withdrawal via Twitter is of course sobering and somewhat depressing," according to German public broadcaster Deutsche Welle. She definitely didn't hold back there.
The G7 summit is an annual meeting of leaders from the United States, Germany, France, Canada, Italy, Japan, and the United Kingdom to discuss issues such as energy, the global economy, and international security. Merkel said that she "tried hard to find a compromise and we fought hard for it ... this was an important announcement," according to CNN. But, diplomacy apparently isn't high on Trump's list this time around, and he wasn't happy with the agreement or the conversation, and especially not with Canada.
Merkel's comments follow a weekend of severe tension (and tweets) between Trump and Canadian Prime Minister Justin Trudeau. On his way to Singapore on June 9 to meet with Kim Jong-un, Trump watched a news conference from Air Force One where he heard Trudeau say that the "U.S. tariffs were kind of insulting." Trump being the reactionary that he is, immediately took to Twitter. The president sent a tweet complaining about Canada's tariffs on the U.S. and saying that he had instructed U.S. representatives at the summit to not endorse the final agreement. He wrote,
Based on Justin's false statements at his news conference, and the fact that Canada is charging massive Tariffs to our U.S. farmers, workers and companies, I have instructed our U.S. Reps not to endorse the Communique as we look at Tariffs on automobiles flooding the U.S. Market!
Trump immediately followed up with another tweet calling Trudeau "meek and mild" He wrote,
PM Justin Trudeau of Canada acted so meek and mild during our @G7 meetings only to give a news conference after I left saying that, 'US Tariffs were kind of insulting' and he 'will not be pushed around.' Very dishonest & weak. Our Tariffs are in response to his of 270% on dairy!
It only got worse from there. Pete Navarro, Trump's trade adviser, went full force at Trudeau on Fox News Sunday, following Trump's tweets. Navarro said "there's a special place in hell for any foreign leader that engages in bad faith diplomacy with Donald J. Trump." Navarro continued to say that's exactly what Trudeau did with his press conference. He told Fox,
And that's what bad faith Justin Trudeau did with that stunt press conference. That's what weak, dishonest Justin Trudeau did, and that comes right from Air Force One.
Despite Trump feeling the need to tweet against Trudeau, Navarro said that Trump had "bigger things on his plate" in Singapore and taking part in the G7 in Canada was just a courtesy for Trudeau, according to CNN.
Trump met with Kim Jong-un in Singapore on Tuesday, June 12 in an attempt to get North Korea to toss its nuclear weapons. But while Trump was distracted by the glitz of setting up a meeting with Kim, he was apparently burning bridges with U.S. allies and trading partners. As a result of Trump's behavior and backing out of the G7 agreement, the EU, Canada and Mexico — all close trading partners to the U.S. — have promised to impose tariffs on lots of U.S. products in the coming weeks in retaliation, according to CNN.
Ugh. I think Trump needs a lesson in making nice with others, maybe we can get a small child to share a friendship song with him?