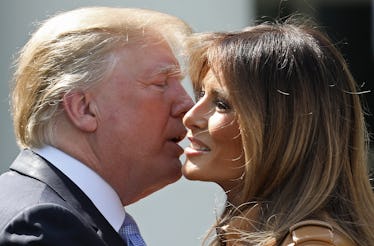 Donald & Melania Trump Had A Very Awkward First Date & I'm Cringing
Win McNamee/Getty Images News/Getty Images
The marriage of President Donald Trump and Melania Trump has been front and center in the public mind since the 2016 campaign trail. Folks can't seem to get enough of deciphering subtle hand movements, facial expressions, and umbrella usage. But how did it all start? Well, that's a story. Allow me to take you back to Donald Trump and Melania's first date, which was, unsurprisingly, incredibly awkward.
For their first date, Trump took Melania to dinner and then to a New York City hotspot for A-listers called Moomba, according to Harpers Bazaar. "It was a great place, wasn't it?" Melania recalled during a 2016 interview. " I remember that night like it was two months ago." How sweet.
Their first date might still be crystal clear to Melania, but they haven't been so clear about the details of that night to the public. Which is maybe a good thing, considering how their romance first sparked.
It all started in September 1998. Trump, having just split with his second wife Marla Maples, attended a New York Fashion Week party near Times Square when he spotted Melania Knauss for the first time, per CNN. Trump described the first time he met Melania in a 2005 Larry King interview, and it seemed to be love at first sight — or maybe more accurately, attraction at first sight. The president said that he was actually supposed to meet this "great supermodel" sitting next to his future wife, but he chose to ditch her for Melania. Trump told King,
I went crazy. I was actually supposed to meet somebody else. There was this great supermodel sitting next to Melania. I was supposed to meet this supermodel. They said: Look, there's so and so. I said: Forget about her. Who is the one on the left? And it was Melania.
Despite Trump being on a date withNorwegian heiress Celina Midelfart — who he had been dating for seven months at that time, according to Cosmopolitan — he asked Melania for her number. Melania turned him down though. She told Harper's Bazaar,
He wanted my number, but he was with a date, so of course I didn't give it to him. I said, 'I am not giving you my number; you give me yours, and I will call you.' I wanted to see what kind of number he would give me — if it was a business number, what is this? I'm not doing business with you.
I mean, I don't really know what this exchange has to do with him being on a date with another woman, though. I guess it was more about gauging his interest in her rather than not wanting to go out with someone who is hitting on you while on a date with someone else.
Good thing Melania got to ask for his number instead, since that way Trump was able to try and impress her by giving her various numbers to his business holding. Can you guess what number he did give her? "The office, Mar-a-Lago, home in New York, everything," she told Harper's Bazaar.
Seven years after meeting, Trump and Melania tied the knot in Palm Beach in 2005 and a year later welcomed their son Barron Trump. Trump told King in that 2005 interview shortly after they married that he knew it was time to propose because they'd been together a long time and never fought. He said,
Well, we were together five years. We literally have never had an argument; forget about the word 'fight.' We never even had an argument. We just are very compatible. We get along. And I just said: You know what? It's time. It wasn't a big deal.
Before Melania, Trump had two previous wives: Ivana Trump, who he divorced in 1990, and Marla Maples whose divorce from Trump was finalized in 1999. With Ivana, Trump had three children: Donald Trump Jr., Ivanka Trump, and Eric Trump, and had youngest daughter Tiffany Trump with Maples.
Given his history with women and the rather tumultuous time that Trump's had in the White House so far, his relationship with Melania is constantly under a microscope. It can't be easy for Melania, who doesn't seem to care for the spotlight all that much. But after 13 years of marriage, I guess it still works. Hey, whatever floats your boat.