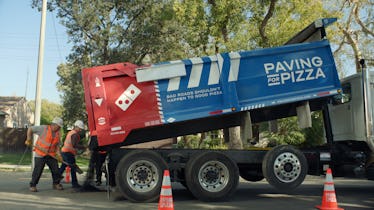 Domino's Wants To Pave The Streets In Your Town In Honor Of Pizza Deliveries
Domino's
One pizza chain is taking America's infrastructure problems into their own hands. Domino's is tired of potholes ruining their freshly-made pies during delivery, so they've cooked up an idea to fix the problem. With the help of local municipalities nationwide, Domino's is "Paving for Pizza" to get rid of potholes so your next delivery arrives all in one piece.
The "Paving for Pizza" initiative kicked off on Monday, June 11. Domino's wants to give your pizza a smooth ride from the store to your front door. See a pothole in your neighborhood? A bump in the road? Domino's wants to fix the problem, but you will have to let them know about it. The pizza company is soliciting information on subpar roadways from pizza eaters across the nation in an effort to fill in cracks and eliminate bumps.
To nominate your town, head on over to the Domino's website. All you need to do is plug in your zip code, enter your email address, and click the arrow to submit the information. It is that simple. Once you've sent over the details, Domino's will be in touch if your city is selected to receive funding to improve your local roadways.
"Have you ever hit a pothole and instantly cringed? We know that feeling is heightened when you're bringing home a carryout order from your local Domino's store. We don't want to lose any great-tasting pizza to a pothole, ruining a wonderful meal," said Russell Weiner, president of Domino's USA, in a press release. "Domino's cares too much about its customers and pizza to let that happen."
Domino's is also working alongside district leaders across the country to repair roadways in local communities. Already, Domino's has come to the rescue of roads in need in four towns including Bartonville, Texas; Milford, Delaware; Athens, Georgia and Burbank, California. Domino's provided each town a paving grant to help level out local roads. The end result? A smoother ride for your pizza. Oh, and the delivery driver, too. Let's not forget how awful potholes can be for cars. But back to what's important: keeping the pizza intact.
Not a whole lot is worse than when the top of your Wisconsin 6 Cheese pizza comes into contact with the inside of the box while in transit. If this has ever happened to you, then you already know there is no saving your pie. Turns out, cheese is next to impossible to remove from a cardboard pizza box, so the chances of reconfiguring your pie are slim to none. It's nice to know that Domino's feels my pain, and is going the extra mile to try and prevent this tragedy from happening again.
Earlier this year, the pizza chain unveiled Domino's Hotspots, a service that delivers pizza to customers without an address. It is a genius concept, isn't it? You could be sitting on the beach, soaking up the sun and all of the sudden the urge to eat a slice of pipping hot pizza hits you. You don't want to pack up your belongings just to grab some lunch, because that's a hassle-and-a-half, so you use your phone to order up your favorite pie from Domino's. The driver then comes right to you based on the location you provided. Let's just hope your order arrives unharmed by any dangerous holes in the road.
Remember that this is all in the name of pizza, so you've got to do your due diligence. If you know of an imperfection in the pavement nearby your residence, save someone the headache of a wrecked pizza and tell Domino's about it ASAP. Who knows, you might even be saving your own pie next time.