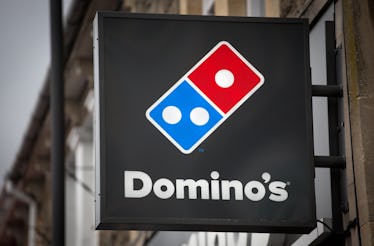 Here's How You Can Get Half Off Of Your Next Domino's Pizza Until Dec. 2
Matt Cardy/Getty Images News/Getty Images
If you're tired of eating Thanksgiving leftovers like I am (or if you didn't score that Cyber Monday deal that you really wanted), then you are going to be jazzed about this current promotion from Domino's. Right now, Domino's is offering half-off all menu-priced pizza orders for the entire week. Pizza is one of those universal foods that is good no matter what time of day it is (hello, breakfast). TBH, pizza tastes even better when it's half off. Here's how you can get Domino's 50 percent off pizza promotion for Cyber Monday Week.
Cyber Monday is regarded by many as the biggest online shopping day of the year. From electronics to clothing and everything in between, you probably at least checked out a few of the super cheap deals across the internet. But, what you might've missed is this incredibly delicious deal from Domino's. The pizza chain is offering half-off all menu-priced pizzas as part of it's Cyber Monday Week promotion. The best part? This deal extends beyond Cyber Monday. If you are hungry for pizza, you can order up a menu-priced pie for 50 percent off all week long. The deal is valid starting on Monday, Nov. 26 and runs until Sunday, Dec. 2, according to Domino's.
To claim your half-off pie, simply go to the Domino's website and place your order. You don't need a special promotion code or anything to get the discount. Just find the pizza you want, add it to your cart, and the discount will be automatically deducted from your order total. Not near your computer? No worries. Domino's 50 percent off Cyber Monday Week pizza deal can be redeemed using the Domino's app on an iPad, iPhone, Android, Windows Phone 8, and Kindle Fire, according to Domino's. You can also use Domino's AnyWare ordering service (which lets you order from your favorite devices) by using Google Home, Alexa, Slack, Facebook Messenger.
Just to test out the deal, I logged on to the Domino's website to see what I could get. To my surprise, Domino's half-off Cyber Monday Week promotion even includes large-sized pizzas. That's 14 inches of cheesy goodness at half the normal cost. The deal even applies to specialty pizzas like the Hand Tossed Buffalo Chicken Pizza (yum) and the Hand Tossed Cali Chicken Bacon Ranch Pizza (yes, please). You can also build your own pizza to get exactly what you want for half off if that's more your style, because there's nothing like the familiar taste of a traditional cheese and pepperoni pizza.
What I love most about this deal is that I don't have to make dinner this week. Or breakfast, if there are leftovers. The week after Thanksgiving (or at least the days that follow) can be a little hard to get back into the swing of things. You've had a few days off from work, you're still trying to come out of a food coma, and the cooler weather probably has you bundled up in bed. The solution? Ordering a pizza, of course.
Don't forget that Domino's delivers to places without an address. This can make your life a whole lot easier if you are hungry and are at the park or beach. The pizza pie chain has more than 150,000 active hotspots in the U.S. Just remember that the half-priced pizza deal is only valid through Sunday, Dec. 2, so order up while the savings are still hot.