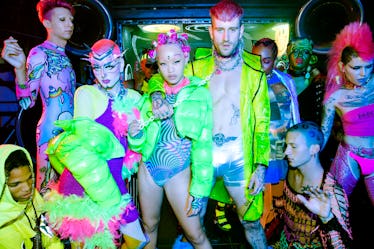 Dolls Kill Is Offering 30 Percent Off Everything For Cyber Monday, Including Their New '90s Line
By now, you've surely read up on what kinds of discounts pretty much every mainstream brand will be offering come Friday. But there's one retailer that you've likely overlooked. I'm here to tell you to pay attention to Dolls Kill's 2018 Black Friday and Cyber Monday sales because they've got some awesome offers on exceedingly unique styles coming your way.
If you've never looked at Dolls Kill before think of it as a one stop shop for all things edgy, playful, gutsy, sexy, and slightly off-kilter. They describe themselves as "an online boutique featuring a rebellious spirit and attitude, mixed with a bit of punk rock, goth, glam and festival fashion," and they couldn't be more on-point. Earlier this year, they resurrected your favorite '90s brand with their rainbow-loaded Delia's by Dolls Kill collection and now, they're about to make your heart sing once again.
From now through Sunday, November 25, the retailer is offering selecting styles at up to 25 percent off in honor fo Black Friday. That means there's no better time to get started on your Coachella looks for 2019 (early bird gets the sartorial worm, right?) or to snag those chunky, punky boots you've been dying for.
That's not even the half of it, though. In the Dolls Kill world, Black Friday is child's play. It's an appetizer, if you will, for the main event, which is gives customers 30 percent off absolutely everything on the retailer's website for Cyber Monday. Starting at midnight on Sunday, November 25, any item you click on will be nearly 1/3 off its normal price, so familiarize yourself with their offerings ASAP and get your cart ready.
Speaking of Dolls Kills offerings, they're about to significantly expand. To coincide with their Cyber Monday sale, they're launching an entire new line of offerings called the Party Monster collection. Inspired by '90s raves, it's a smorgasbord of all things iridescent, neon, psychedelic, furry, shiny, and more. If you love festivals or going to the coolest events your city has to offer every weekend, this is a collection you won't want to miss out on. Check out some of its coolest pieces below and get ready to shop until you drop.
I don't know about wearing this to Coachella (five-inch platforms and the desert don't mix) but I could totally see this on some rad influencer at Art Basel Miami. The layering options with the skirt are endless and the leotard is basically a wearable optical illusion.
Forget about tasting the rainbow—wearing the rainbow is where it's at.
Because Jnco-inspired pants will (and should!) never go out of style.
I think you just found your new favorite statement-making winter coat! The worst part about bundling up for the cold is that it completely covers whatever cool outfit you're rocking. This coat, on the other hand, would make it.
Am I the only one getting major Zenon, Girl of the 21st Century vibes here? Zetus lapetus, this look is far out!