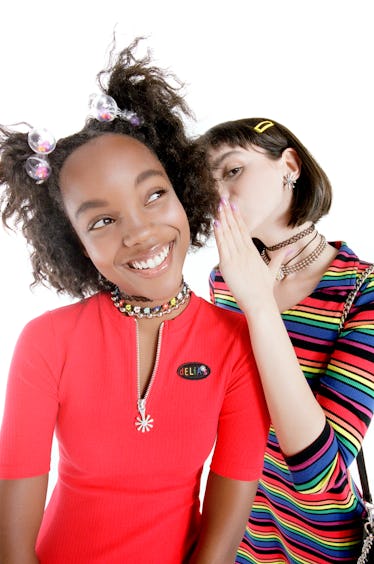 dELIA*s Is Back Thanks To Dolls Kill & Trust Me, You'll Want Every '90s-Inspired Piece
Remember when Wet Seal bid its adieu to the fashion world, only to be resurrected soon after as an online-only retailer, much to the joy of its longtime fans? Well, another '90s cult-favorite brand is back and — dare I say it — even better than ever. Delia's by Dolls Kill (or dELiA*s by Dolls Kill, if you want to get really technical) is here to resurrect a cult-favorite brand and all of its best retro-tinged offerings, so get ready to once again clothe yourself in rainbow from head to toe.
If you're asking yourself, "What's dELiA*s?" then you clearly A) were born after 2000 or B) know nothing about '90s style. You see, dELiA*s was one of the coolest brands ever back in its heyday (its retro and rainbow-tinged offerings were everything) and when it declared bankruptcy in 2014, many a millennial shed quite a few tears. While the brand reopened as an online merchant in 2015, it never returned to the same status of cool as it once claimed. But, as it turns out, second time's a charm.
Dolls Kill licensed the dELiA*s name in order to create deLiA*s by Dolls Kill, which the retailer describes as "a bad*ss, limited-edition collection for the Winona + Gwen in all of us," according to a press release. "From butterfly jeans to kitten tees, we'll have your inner 8th grader begging for more."
Dolls Kill is a go-to when it comes to outlandishly awesome festival wear and really anything slightly off-kilter (I mean that in the best of ways), so it makes sense that it would want to work with a brand that has its own unique DNA. dELiA*s has always boasted a cool vintage vibe — the collaboration is a total dream.
Excited? You should be. Launching online Friday and in stores on Saturday, the limited-edition collection comprises 70 total pieces that range between $18 and $88, meaning it will keep in line with those old dELiA*s prices we all loved so much. Along with clothing, shoes, and accessories, the collection will also offer "quintessential 90's beauty, accessories and home décor." We got a sneak peek of some of the offerings ahead of the launch and think you'll agree they live up to the hype you've probably created in your head.
A PVC cow-print bag with a rainbow logo? It's a buy that Lizzie McGuire would definitely call Miranda on her pink see-through phone about.
"Granny" panties are so underrated. Aside from being insanely comfy, they're also super cheeky and can accommodate a cool, branded waistband.
They come in green, blue and red, too.
This is a Caboodle! You know you have major nostalgia just looking at it.
If you love a good '70s floral shoe, these are the crème de la crème. Their chunky treaded soles give them a slight '90s flair for the ultimate decade mash-up.
You would literally never be sad if you owned this bag. It simply wouldn't be possible.
Lipgloss and butterfly clips — just a few of the necessities.
I think you just found your new festival bag.
I know, I know, there's a lot to choose from. But just remember that no matter what you choose, it's guaranteed to be totally bangin'.