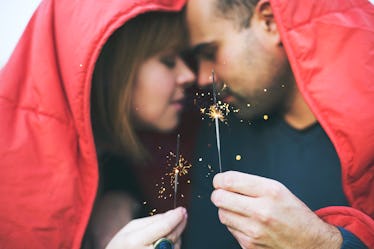 Your Relationship Is Golden — As Long As It Includes These 6 Values
If your romantic relationship were a Sweetgreen salad, perhaps you and your boo's shared values would be your grain and/or leafy-green base. It's not everything, and it's not always the fun part. But it's your basic foundation, and more importantly, it sets the groundwork for everything else. And although everyone is different, if your relationship includes these values, you and your boo are probably on the same page about what you want from your relationship and your lives in the future.
"While we don't need grand gestures daily, showing our love and respect, and caring for our partners on a daily basis goes a long way to strengthen the bond between us," Dr. Joshua Klapow, Ph.D. Clinical Psychologist and Host of 'The Kurre and Klapow Show,' tells Elite Daily.
Knowing that you both value something like listening or having friend-time can help you and your boo get into daily patterns like asking about each other's day or scheduling a running girls night. Unlike a massive birthday party or a public declaration of love (which, BTW, can be fun and sexy too!), relationship values are the daily behind-the-scenes shots of your relationship.
Here are six values that can be super important in your romantic relationships.