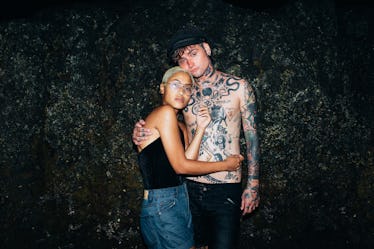 How To Support Your Partner When They Lose Their Job, According To An Expert
No matter how long you've been dating someone, it's not always easy to know how to support your partner when they lose their job. While working, navigating the modern work place, and finding clothes that are simultaneously comfortable, professional, and still on brand, can feel like the pinnacle of stress —losing your job, for any number of reasons, can be completely disorienting.
"There are many, many different circumstances that can come with job loss. For some, it may actually be a relief. For others, it may be seen as an opportunity to make a change. For many, however, the job may have been not only a source of income, but also a source of identity. All of these scenarios are possible," Dr. Joshua Klapow, Ph.D. Clinical Psychologist and Host of 'The Kurre and Klapow Show,' tells Elite Daily. "The message here is don't assume you know exactly how your partner feels. It's time to check in."
When your partner loses their job, it's natural to feel a little overwhelmed. You care deeply about your boo, and you want to make sure they are feeling loved and supported. Dr. Klapow broke down some ways to support a partner that lost their job, and what he said rings true.