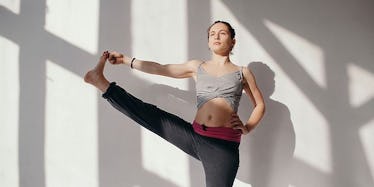 5 Yoga Poses For Your Posture That'll Help You Sit Up A Little Straighter
From slouching all day long at a desk job, to hunching over your phone with a perpetually strained neck, proper posture is definitely a rare thing to come by these days. TBH, at one point, I felt like I literally was taking two inches off my height because of my annoying habit of slouching. But after I started hitting up vinyasa classes on the reg, I noticed myself becoming much more aware of my rounded shoulders and slumped back, which made me wonder, does yoga improve your posture?
Poor posture might seem like a trivial thing to worry about, but it's not something that'll just take an inch or two off your height. Habitual slouching over time can lead to more serious health issues like muscle strain, disk problems, and joint pain.
So, before you let it get to a debilitating point, allow the power of yoga to straighten up your spine ASAP. And, look, I'm not saying that signing up for a single class at your local studio is automatically going to reverse your tendency to slouch. But, yoga is all about bringing more awareness into the mind and body, and becoming aware of when you're habitually hunching over is an important first step in correcting your posture overall.
By including a few of these yoga poses into your everyday routine, you'll be on the road to standing tall and proud in no time.