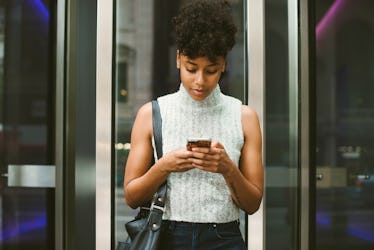 5 Stretches For "Tech Neck" That Everyone Needs, Because We're All Too Attached To Our Phones
I'm going to take a wild guess here and say that you're probably reading this article on your smartphone or tablet. And if you are, you most likely don't have the most pristine posture at the moment. The perpetually hunched shoulders and the tense curve of your spine are basically a given when you're always looking down at your phone, but a few simple stretches for your "tech neck" can easily banish the pain and restore your posture.
"Tech neck" is essentially what happens when your muscles are super strained as a result of all the time you spend looking down at your phone or other handheld devices. It's a pretty common thing, as you might imagine, but it can actually lead to some pretty serious problems like nerve pain and herniations in the long run.
Bet you didn't think that stalking your ex's Facebook memories for hours could actually lead to actual health problems, huh? (Seriously though, chill with that).
In 2014, The Guardian reported on the intense stress many of us are putting on our necks from all of the double-tapping, meme-sharing, and ex-stalking we all can't help but do. Believe it or not, straining your upper body this way can actually damage your spine so much that it may require an operation to correct it in the long run. Yikes.
But if you make it a point right now to start incorporating a few of these simple stretches into your routine, you can make sure you don't find yourself on an operating table one day just because you couldn't figure out how to detach yourself from technology. Try them out, and watch your "tech neck" slowly but surely disappear.