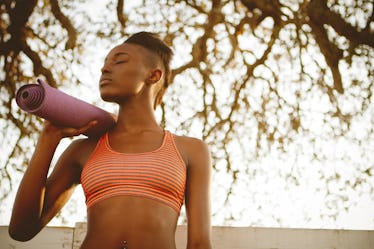 7 Yoga Poses That'll Hit The Sweet Spot For A Sore Neck & Shoulders
Whether you're sitting crunched over a computer all day, on your feet serving trays on trays of heavy dinners, or heck, even if you just slept wrong, the neck and shoulder pain that can result from any of these activities is the freaking worst. And when the pain is relentless, it can absolutely ruin your whole damn day. So no matter where you are, if the pain is kickin' hard, it's a good idea to take a break for a little yoga time. And does yoga help shoulder pain, you may ask? You bet it does, friends. You bet it does.
And yeah, you also might have guessed that the whole neck tension thing is especially true if you're straight-up prone to stress. While the stress might not always be the root cause of your neck pain, it can definitely exacerbate the tension or cause underlying aches to rise to the surface.
So on top of the fact that yoga naturally includes stretches that work to specifically target those neck and shoulder sweet spots, the practice and breath work itself can do wonders for reducing stress, as well as getting that bod all nice and strong and supple. Never fear, I've got you covered for some yoga stretches and exercises that'll melt the tension away and help you unwind.