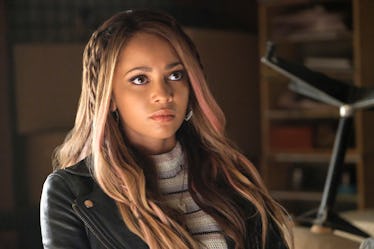 Toni Topaz From 'Riverdale' Gives Details On Her Bughead "Love Triangle" – EXCLUSIVE
Bettina Strauss/The CW
Well, well, well, Riverdale fiends, we're back for Season 2 of our fave teen drama and already the suspense, mystery, and excitement are at all-time high levels. There's a new murderer loose in Riverdale, new secrets to uncover, and new characters to keep an eye on. One of those characters is Toni Topaz and, according to an exclusive interview with the actress who plays Toni Topaz — Vanessa Morgan — she will be the cause of some major drama this season. Since Toni is a Southside Serpent, we know she will be pretty close to a certain Jughead Jones, which has us all freaking out and wondering: Does Toni Topaz break up Betty and Jughead?
It's no secret that, since Toni's addition to the cast was announced earlier this year, fans have been curious about where the character will fit in. As a Serpent, it's clear Toni won't be rolling with the Betty Coopers and Veronica Lodges of the crew (this is Riverdale, after all, though, so who knows what could happen), but that doesn't mean they won't cross paths for other reasons, which, for now, remain a mystery.
That being said, Elite Daily recently had the chance to chat with Vanessa Morgan about where Toni will fit in with the show's main crew and what we can expect to see from the bad*ss Serpent as her storyline unfolds this season.
To start, we asked Vanessa who her character is most like on the show's current cast; the actress tells us, without hesitation, "I wouldn't say [Toni]'s most like anybody, she's kind of an outcast," before revealing her character does develop a relationship with the newly minted Serpent Jughead. Morgan says,
You're definitely going to see [Toni] getting close with Jughead; she's one of his first friends at Southside [High School], and she welcomes him into the gang. You're going to see lots of Southside, there's gonna be lots of friction between Northside and Southside, and she's going to fit in in that sense with Jughead's character.
Of course, the idea that another girl is getting close to Jughead has rumors flying that his relationship with Betty might be in trouble this season. Morgan herself, as well as the show's executive producer, Roberto Aguirre-Sacasa, have both said "it is conceivable that Toni will potentially test the limits of Bughead," which has us all shaking.
As for how those limits will be tested, Morgan tells us,
Jughead is going over to a new school, and there's another strong female character coming, and he has a girlfriend, so of course Betty isn't gonna like that. It's definitely going to cause some friction and there might be a possible little love triangle there.
A love triangle?! Oh boy. This is not good. This is not good at all. In a town filled with secrets, murders, fires, and suicides, Bughead is the only wholesome relief we can count on (well, that and Archie's abs). Who knows what this "little love triangle" might entail, though. In a recent interview with Glamour, after discussing the death threats she's received from Riverdale fans who want Betty and Jughead to stay together, Morgan says, "Who knows if [my character coming between Bughead] is even going to happen. People are just jumping to conclusions."
As I said earlier, this is Riverdale, so nothing is ever guaranteed until it actually happens. For all we know it could be Betty and Toni who shake things up this season (Toni is bisexual, so it's not completely out of the question, and we all know Betty has a dark side). I guess we'll just have to wait and see.
Riverdale airs at 8 p.m. ET, Wednesdays on The CW. Toni Topaz's first appearance on the show will be on Wednesday, Oct. 25.
Check out the entire Gen Why series and other videos on Facebook and the Bustle app across Apple TV, Roku, and Amazon Fire TV.