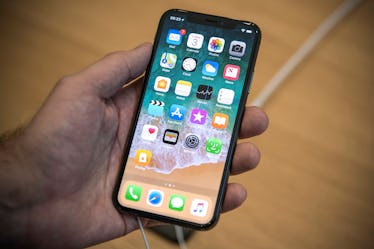 The iPhone X Wireless Charging Comes With A Pretty Big Catch
Carl Court/Getty Images News/Getty Images
Last year Apple dealt us a new hand with the iPhone 7, when they axed the headphone jack and limited the ports to only accommodate lightening cable accessories. This year's iPhone X release offers up a wealth of exciting new features, including "Face ID" facial recognition software and an amazing new Retina display. Another exciting feature is wireless charging — but does the iPhone X come with a wireless charger?
The short answer is — no. What comes in the box is your new iPhone X, your traditional lightening cable and USB power adapter, the new lightning cable headphones that were introduced last year, and a lightning to 3.5mm headphone jack adapter. So sadly, there is no accessory available with the new product that can showcase the new wireless charging capability (sigh).
This skimp on Apple's part is reminiscent of their iPhone 7 launch last year. Though there was a lot of hype about the possibility of wireless headphones being included with the new model, the phone itself did not come with Apple's new wireless "Air Pods", despite it being fully wireless-headphone capable. In fact, one could argue that Apple was encouraging wireless headphone use, considering the elimination of the headphone jack. So if the headphone jack is taken away, and your company is promoting wireless, why not include wireless accessories to go with a fully-capable wireless phone?
There could be a million answers to that question. But for now, even though Apple is not including all the necessary wireless accessories that support their new iPhone model in the box with the phone, we know that the company is definitely on the way to going full-on wireless. And the wireless charging feature on the iPhone X is proof of that.
So, how can you charge your new iPhone X?
You have two options. The first is to go the old fashioned route and use your USB lightning cable with the power adapter that comes in the box. Or, if you're super tech-savvy and want to utilize all of iPhone X's new features, you can opt to purchase a wireless charging station.
The easiest way to get a wireless charger that is iPhone accessible is at the Apple Store itself. Currently the store sells two different brands of wireless charges. the first is Mophie, and the second is Belkin, which both sell chargers for around $60 each. You can also find cheaper options on Amazon, ranging from $15 to $20 price tags.
You can also charge your phone using Apple's Lightning Dock. The dock comes in 4 colors (black, silver, gold, and space grey), and sits your phone upright while it's charging via a lightning connecter. The dock itself uses a lightning cable and can be connected to any computer or laptop, or an outlet using the USB power adapter. The dock also features a headphone jack in the back so that you can listen to music while you charge. It sells for $49 and you can also find it at the Apple Store.
You can also go completely wireless and pair your new iPhone X with a some wireless headphones.
If you have the iPhone 7 or any model after that, you should really do yourself a favor and get some wireless headphones. Not having a long annoying wire to deal with everyday (especially if you live in New York and commute via the subway) is life-changing. I mean, technology is clearly moving in the direction of going totally wireless, so why not get on the train early and start prepping now? Sadly, though, the iPhone X does not come with AirPods, either — you'll have to get those on your own.
Whether you're excited about the iPhone X or not, technology developments are moving at a rapid pace. And like it or not, you're gonna have to try and keep up. Who knows what the next bold move smartphone developers will be. Hologram voicemail, perhaps? Only time will tell.