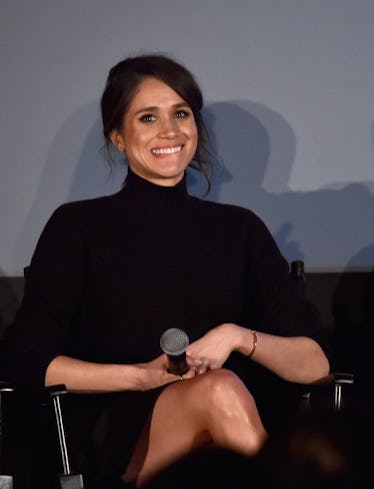 Meghan Markle Reportedly Revealed If She Still Watches 'Suits' Now That She's A Royal
Alberto E. Rodriguez/Getty Images Entertainment/Getty Images
Meghan Markle has traded in her suits for sensible dresses and fancy hats and we all better get used to it! OK, that was a Suits joke, but I think everyone deserves at least one. The Duchess of Sussex is now four months settled into her new role as a royal family member and has truly closed the door on her previous gig on the hit USA series. If you're wondering, "Does Meghan Markle still watch Suits?" — the honest answer is no. Like, for real. Everyone try to move on.
Meghan joined the Duke of Sussex, Prince Harry, at the Coach Core Awards on Monday, Sept 24. The event was held at Loughborough University and celebrated the program designed to encourage young people to get involved in sports and coaching. Together with a handful of young people and other Coach Core organizers, Meghan and Harry spent the day palling around in a gymnasium, participating in ball games, and letting loose as much as two royal people can in a public scenario full of cameras.
During this time, Meghan was reportedly approached by two 20-year-old twins named Luke and Elliott Rainbird whom she had met previously at another event earlier this year. According to People magazine, the Rainbird brothers asked her directly if she still watches Suits and Meghan's response was a simple, direct "no." She then reportedly turned the conversation back to Coach Core. Interesting...
Elite Daily reached out to Kensington Palace for comment on the report, but did not hear back by the time of publication.
For funsies, here's a video of Meghan tossing a ball around with Prince Harry.
Just a little different than a TV set, no?
Suits fans know both Meghan and her co-star Patrick J. Abrams left the series at the end of Season 7, though Katherine Heigle recently joined the cast for Season 8. There is also no reported bad blood between Meghan and her old Suits team, as many of them attended her wedding in May. Also, Meghan has previously commented on her time on the show at length, and told BBC during her first interview with Prince Harry in November 2017, "I don't see it as giving anything up. I just see it as a change." She continued, "It's a new chapter, right? And also, keep in mind, I've been working on [Suits] for seven years. We were very, very fortunate to have that sort of longevity on a series. I've ticked this box, and I feel very proud of the work I've done there, and now it's time to work with [Harry] as a team."
When Meghan announced she would be leaving the show, her network released an official statement congratulating her on her life change. It read:
From all of us at USA Network and Universal Cable Productions, we want to send our most heartfelt congratulations to Meghan Markle and Prince Harry on their engagement. Meghan has been a member of our family for seven years and it has been a joy to work with her. We want to thank her for her undeniable passion and dedication to Suits, and we wish her the very best.
Onwards and upwards, Rainbird brothers. Maybe Meghan will catch up on the ol' series next time she has a long flight to any one of the 53 Commonwealth countries or something.
Royal stuff. Psht.