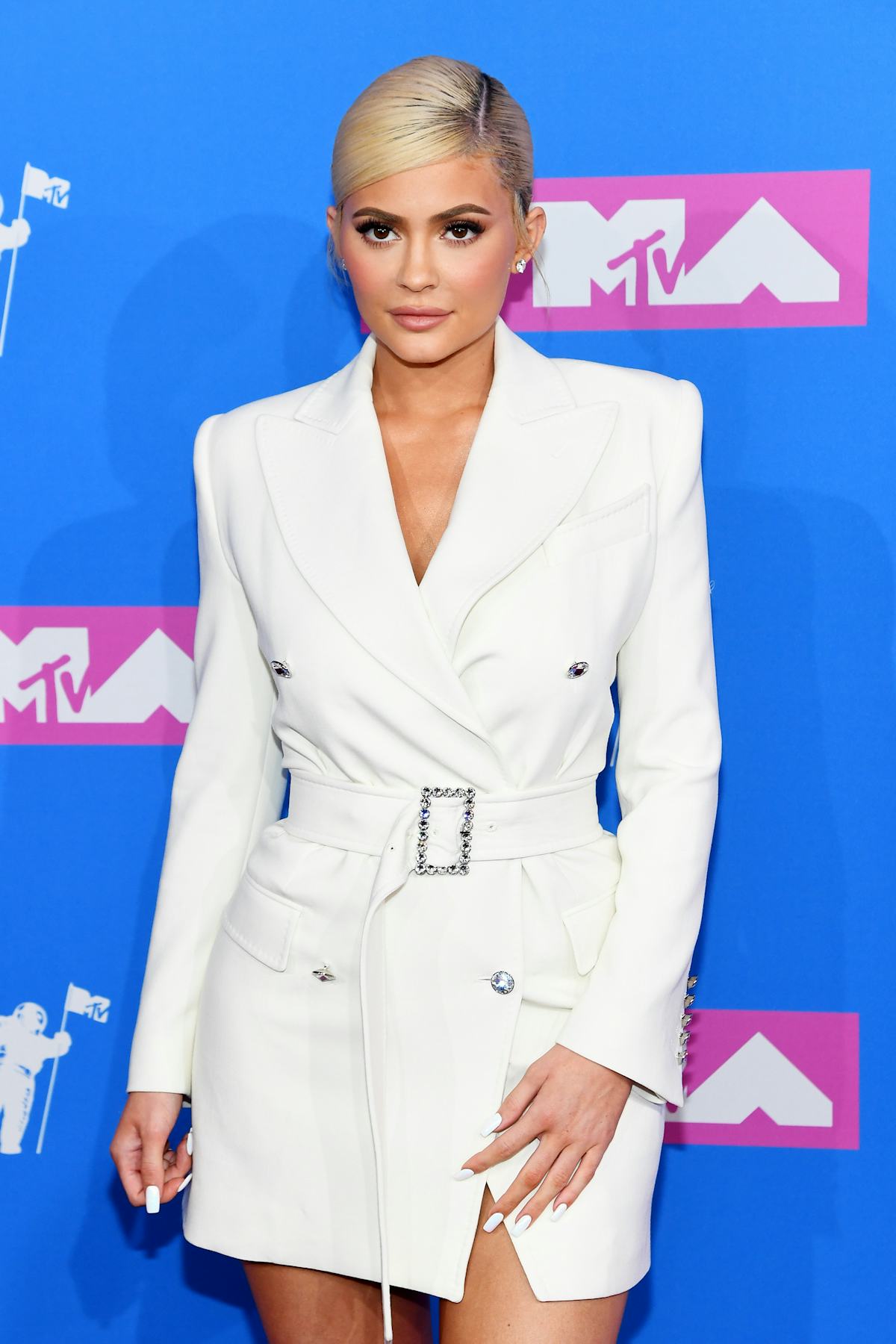 Fans Think Kylie Jenner Got Lip Fillers Again Because Of This Photo On Her Instagram Story
Nicholas Hunt/Getty Images Entertainment/Getty Images
It was only a matter of time, I guess. After a brief dip into the au naturel pond, it looks like a certain member of the KarJenner crew is back to pumping up her pout. Does Kylie Jenner have lip fillers again? Because she posted a pic of herself getting a "lip touch up" on Instagram, and those babies def look noticeably fuller. TBH, I'm totally here for this new development, if it's true. I mean, keeping things natural is great and all, but they're her lips and she's allowed to do whatever she wants with them.
The makeup mogul, if you'll recall, admitted to being insecure about her lips and copped to getting temporary lip fillers during a 2015 episode of Keeping Up With the Kardashians. She finally explained the reason why during a 2017 episode of her own reality show, Life of Kylie.
"I was 15 and I was insecure about my lips," she said. "I had really small lips, and it was, like, one of my first kisses, and a guy was like, 'I didn't think you'd be a good kisser because you have such small lips'. I took that really hard. Just when a guy you like says that... I don't know, it just really affected me. I didn't feel desirable or pretty."
Ugh. Guys just suck, don't they?
Anyway, after giving birth to her daughter, Stormi, Jenner decided to remove all her filler over the summer. But now it looks like the new mama is back on the lip-plumping grind, since she took to her Instagram story on Oct. 9 to give a shoutout to Pawnta Cosmetic Dermatology while rocking a fuller-looking pout. Elite Daily reached out to Kylie's team for confirmation, but did not hear back in time for publication.
"Thanks for coming through late last night with a lip touch up," she captioned the shot.
Check it out:
She looks gorgeous, right? Not that I wasn't totally digging her younger, more natural look without fillers, too. And here's a reminder of what that looked like in case you already forgot:
She looks so fresh and youthful here! But it's all about options these days, am I right? I love seeing all of Kylie's different looks. I mean, she is a freaking makeup mogul, you guys! Her lips have inspired a viral challenge, countless YouTube tutorials, and a line of Lip Kits that repeatedly sell out as fans try over and over again to recreate her infamous pout. Shouldn't she be able to switch things up from time to time without any judgment?
Also, I think it's pretty cool that if Jenner really is using fillers again, she's being pretty open with her fans about it with that post on her Instagram Story. It's kind of refreshing to see someone cop to getting work done in real time for once, you know? So you just keep doing you, Kylie. And we'll just be over here waiting for your next move.