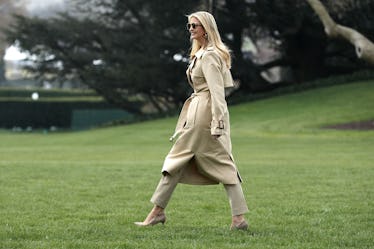 Ivanka Trump Has Been Tweeting In Spanish This Week & People Have Feelings About It
Chip Somodevilla/Getty Images News/Getty Images
While drama ensues around her father's presidency, first daughter Ivanka Trump is in Peru this week to attend the 8th Summit of the Americas. Apparently, Ivanka Trump doesn't speak Spanish, but that hasn't stopped her from tweeting bilingually all week while in the South American country. Unsurprisingly, people on social media have something to say about it.
On her visit to South America, Trump met with women entrepreneurs and leaders in business, and unveiled a new initiative aimed at women's economic empowerment. She's attending the summit as part of an American delegation, per the Associated Press, being led by Vice President Mike Pence.
While in Peru on April 12, the first daughter began sending tweets in pairs: an English version accompanied by one translated into Spanish. In the last day, she's sent six pairs of these identical translated tweets. Elite Daily reached out to the White House for comment on Ivanka's tweeting in Spanish but did not hear back at the time of publication.
So, does Trump even speak Spanish? We don't know for certain, but if she does, she's kept a tight lid on that until now. As Bustle notes, Ivana Trump — Ivanka's mother and Donald Trump's first wife — told a newspaper back in 1989 that Ivanka learned French in school and can understand Czech. Ivanka is also a known advocate of bilingual parenting, and both of her kids are learning Mandarin.
The first daughter's Spanish tweets this week appear to be a first since joining her father's administration officially last May. Her gesture to make her tweets accessible to speakers of other languages during her Peru trip doesn't appear to be the standard. Though Spanish is not the only language spoken in Peru, Trump did not send tweets in any other languages.
Ms. Trump has made numerous other international visits in an official capacity in the last year without translating her social media posts. She attended a similar economic summit in India in November, but didn't tweet in the national Hindi or any other official regional languages at the time.
For an apples to apples comparison: While Trump sent a Spanish tweet on April 12 regarding her visit with Peruvian President Martín Vizcarra, she didn't do the same when she met with Indian Prime Minister Modi in November.
Neither did Trump appear to translate her tweets into languages other than English when she appeared in South Korea for the 2018 Winter Olympics in PyeongChang and met with officials there.
The same appeared to hold true of her May 2017 visit to the Middle East, where Trump tweeted about her stop in Saudi Arabia but did not translate her tweets into Arabic.
Given her limited, if any, history of bilingualism on social media, her shift this week to Spanish didn't go unnoticed.
"Ivanka - am I missing your Spanish language tweets to Puerto Rico?" tweeted one user, though the first daughter didn't appear to have visited the U.S. territory in the last year.
And people had plenty of words for her given her father's policy towards immigrants, especially those from Spanish-speaking nations. "Be careful writing in Spanish, ICE might deport you," one user cautioned Ivanka. President Trump recently announced his intention to send the National Guard to the Mexican border, where he also has plans to construct a wall to prevent immigrants from coming into the country.
Some users even anticipated the backlash she'd get from some Americans about tweeting in another language when English is the official language.
Lo and behold, some users did take issue with it. "Ivanka, this is the USA! Quit tweeting in Spanish!!!" wrote one user.
It's not clear why Trump decided to translate her tweets for her Peru trip this week, but she did keep to her agenda otherwise.
In step with one of her cornerstone policy areas, Trump on Friday spoke about the role of women in the economy. Citing a lack of credit availability for women in business, she listed off initiatives the Trump administration to boost women's entrepreneurial opportunities and announced a new project to further those efforts. (Per Fox News, while pushing for women's equality in the international spotlight, Trump also wore a $1,700 designer dress to the Peru Stock Exchange.)
"We once again affirm the critical role of women in the economy," Trump said at the Business Summit. "These women represent the future, and the U.S. government is proud to support and stand beside them. When women are empowered, communities prosper and countries thrive."
As for whether Trump's bilingual tweeting is here to stay, the White House has yet to comment.