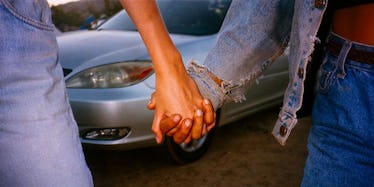 3 Women Who Got Lavaliered Reveal What Happened Next & It's Intense
If you watched the ABC Family show Greek or joined a sorority in college, you know that the process of getting lavaliered is a pretty big deal. It's like getting a promise ring, but even more meaningful. Some people take it so seriously that they don't do it unless they are seriously considering marriage and being together long-term. So, it's natural to wonder: Does getting lavaliered mean you'll get married?
Well, not necessarily. Because even if while at the time of getting lavaliered the couple believes they will get married, it doesn't mean that life won't perhaps get in the way and create obstacles from happening. Just like how getting engaged doesn't guarantee a marriage down the line, getting lavaliered doesn't either. But it should be something you're seriously considering.
"If you ain't gonna marry her, don't lavalier her," a member of Sigma Alpha Mu who goes by the username Lrrlrr said on Reddit. I think it's important to note that the tradition of lavaliering most commonly occurs when a fraternity brother presents the necklace with his letters to his sorority girlfriend. This isn't to say that queer couples cannot engage in the process, but traditionally, it has been done with heterosexual relationships. "Also from what I've heard, tradition is if you break up with a girl after lavaliering, you have to swallow the lavalier or something."
Sounds safe. Anyway, here are some other stories from people who have been lavaliered and what happened afterwards.