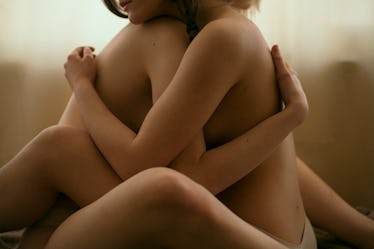 11 Women Spill Whether Breakup Sex *Actually* Helps You Move On
Breakups are like emotional tapas. They're a smorgasbord of feelings that sometimes, come all at once and other times, come on separate little plates. One day, you may wish your ex would get an unflattering haircut and move to Latvia, and the next, you may want to get frisky with them in the shower. Regardless of why you ended things or what stage of the post-breakup healing process you're in, it's natural to wonder: Does breakup sex help you move on?
If getting it on after saying goodbye seems appealing to you both, doing the dirty after a dumping may actually feel really good. Of course, in the wake of a breakup, if getting physical with your ex seems like the last thing you'd want to do, breakup sex may not be your thing (and that's OK, too). From debating joining a convent to sexting your ex at work — there is no one way to heal from a breakup. And as long as you and your ex are on the same page, there's no wrong way to go about it.
I asked 11 women about their experiences with breakup sex, and what they said really covers it all.